Member Spotlight: The Quiet Professionalism of Colleen Wojciechowski
By Colleen Wojciechowski
The Historical Committee has been blessed with long-term members, whom we would like to acknowledge.
This issue we are highlighting Colleen Wojciechowski, recently retired and departed from our committee. Colleen was always quietly active and supportive of both the Cross Cultural Care Special Interest Group (SIG) and the Historical Committee. She preferred to stay in the background doing the work without fanfare, and with a quiet professionalism we all came to admire and appreciate. We want to take this opportunity to thank Colleen for her years of service. Below, Colleen shares the trajectory of her career.
Giving Back to Nursing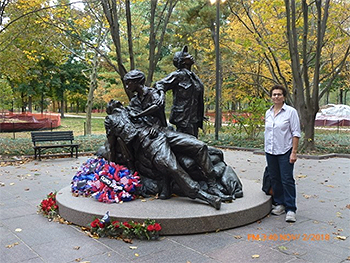 I graduated from Nazareth College in Kalamazoo, Michigan, in 1980. I was sworn into the Air Force on the same day of graduation. I spent 3 years active duty at Wilford Hall Medical Center in the critical care department, rising to the rank of captain. I transferred to the 40th AES where I became a flight nurse instructor. I completed an additional 5 years of service with the Air Force Reserves.
I worked at the Seattle VA Medical Center, Orting Soldiers Home, and as an Occupational Nurse consultant before going on to Pacific Lutheran University in Tacoma, Washington, to become a GNP. I graduated in 1997. I was fortunate to have preceptors who were part of the precursor to GAPNA (NCGNP), and I joined the organization in 1997.
As a GNP, I worked in internal medicine and had my own practice making primary care visits to homes. I moved to North Caroline where I made home visits to low-income seniors for Duke and then landed at Durham VA Medical Center in the rehab and long-term care center. I transferred to the transitional care program and managed Veterans from hospital to home.
I started attending the annual NCGNP Conference in 2001. It was then I met Kathy Fletcher. She became my mentor. Every year she gently pushed me to get more involved in supporting the organization.
One year it was collecting and counting the votes for the officers, next year it was Nominating Committee, then it was the Historical Committee. Once I started with the Historical Committee I kept participating. After being selected as Nurse Practitioner of the Year for North Carolina, I was fortunate to present my work, GNP home visits to improve care in low-income adults.
Trudy Keltz recruited me for the LGBT focus group, which became the Cross Culture Care SIG, of which I was co-chair.

I am thankful I was guided by experienced NPs in the organization to participate in giving back to nursing at the level I was comfortable. After 40 years of nursing, starting as a nursing assistant in high school, I am happily retired, traveling the United States in my cherry red van, and occasionally enjoying a cruise.
Colleen Wojciechowski, MSN, GNP-BC
ctwwojo@gmail.com
Join your friends at the 2019 GAPNA Annual Conference, October 3-5, 2019, in Las Vegas, NV.

Register today!