GAPNA is proud to announce a new APRN Specialty Certification in Gerontology – the APRN Gerontological Specialist Certification (GS-C).
This specialty certification distinguishes APRNs who possess expert knowledge, experience, and skill in managing the complex health needs of older adults.
The registration fee for the exam is $295 for GAPNA members and $395 for others. Preregistration to sit for the exam is required.
Applications and Information - DOWNLOAD the:

Computer-Based Testing Exam Application and Guidelines, for full information on eligibility and to apply.


Pen and Paper Exam Application and Guidelines, to be held onsite at the GAPNA Annual Conference location ONLY.


Re-examination Application, for a candidate who does not pass the examination has ONE YEAR in which to retake the examination with this reduced application.
 
Exam Application and Guidelines Highlighted Areas
ELIGIBILITY CRITERIA
To be eligible to participate, applicants must meet the following criteria:
The applicant must hold a full and unrestricted RN license in the United States or its territories.
The applicant must have current recognition or must meet the requirements by the state board of nursing to perform as an advanced practice registered nurse (APRN).
The applicant must hold current national certification in an advanced practice registered nurse (APRN) role.
The applicant must have a minimum of 2500 hours of experience in an advanced practice role, working with older adults, during the last 5 years.
The applicant must have completed fifty (50) contact hours of approved continuing education specific to gerontology* within the 3 years prior to submitting the exam application. Continuing education hours must be accredited by a provider or approver of continuing nursing education, or medical education, such as the American Nurses Credentialing Center (ANCC), a state board of nursing, nursing association, Accreditation Council for Continuing Medical Education (ACCME) or American Academy of Nurse Practitioners (AANP).
* For initial GS-C certification by examination, continuing education contact hours include online or on-campus coursework, attending conferences, lectures, etc., where the applicant is the learner.  Alternatively, precepting hours, writing entries or articles for publications, giving presentations or lectures, etc., are considered professional contact hours, which can be used for recertification only, not for initial certification by examination.
STATEMENT OF NONDISCRIMINATION
It is the policy of GNCC that no individual shall be excluded from the opportunity to participate in the Gerontological Specialist Certification process on the basis of age, sex, race, religion, national origin, ethnicity, disability, marital status, sexual orientation or gender identity.
APPLICATION PROCESS
Complete the exam application in its entirety. Be sure to sign and date your application. Mail or fax the completed application found on pages 8 through 11, along with the appropriate fee to GNCC's testing agency, the Center for Nursing Education and Testing, Inc., (C-NET). C-NET will review and processes your application for completeness.
Upon approval of an examination application, the applicant will receive an examination permit by email. The emailed permit will include a link to an online scheduling portal for the applicant to schedule the exam at the computer-based testing location of choice. The computer–based testing agency will send a follow-up email to the applicant confirming the exam site, date, and time that the applicant has chosen. If the applicant does not receive an examination permit within 4 - 6 weeks of submission, notify C-NET by calling 800.463.0786.
NOTE: If the application is incomplete, illegible, or the criteria cannot be verified, the candidate will be contacted to provide the missing information. If the requested information is not received within the stated time frame, the application process will stop and a refund less the administrative fee will be given.
Taking the Examination
Applicants will not be admitted to the examination without an examination permit and proper ID. Substitution of an applicant cannot be made and no such request will be honored. The examination permit will remain active for a period of 90 days (from the date of issue). The applicant must test within the 90-day window printed on the permit. If the applicant does not test by the end of the 90-day window, both the examination permit and exam application will expire. The applicant must then submit a new application and fee for the exam before being allowed to test.
You should arrive at the testing location on your examination permit at the report time listed. Bring your valid government-issued photo ID and the examination permit. The name on your ID must match the name on your exam permit. You need only bring your examination permit and your ID. Pencils and all other testing materials are provided. No drinks or food are permitted in the testing area.  Cell phones and all other electronic devices are not permitted.
EXAM BLUEPRINT
The test specifications or blueprint is based on the results of a survey, which identified the practice patterns of APRNs in gerontology. The blueprint is valuable to the test taker because it breaks down the sections of the test. Use it to help you focus your study as you prepare for the exam.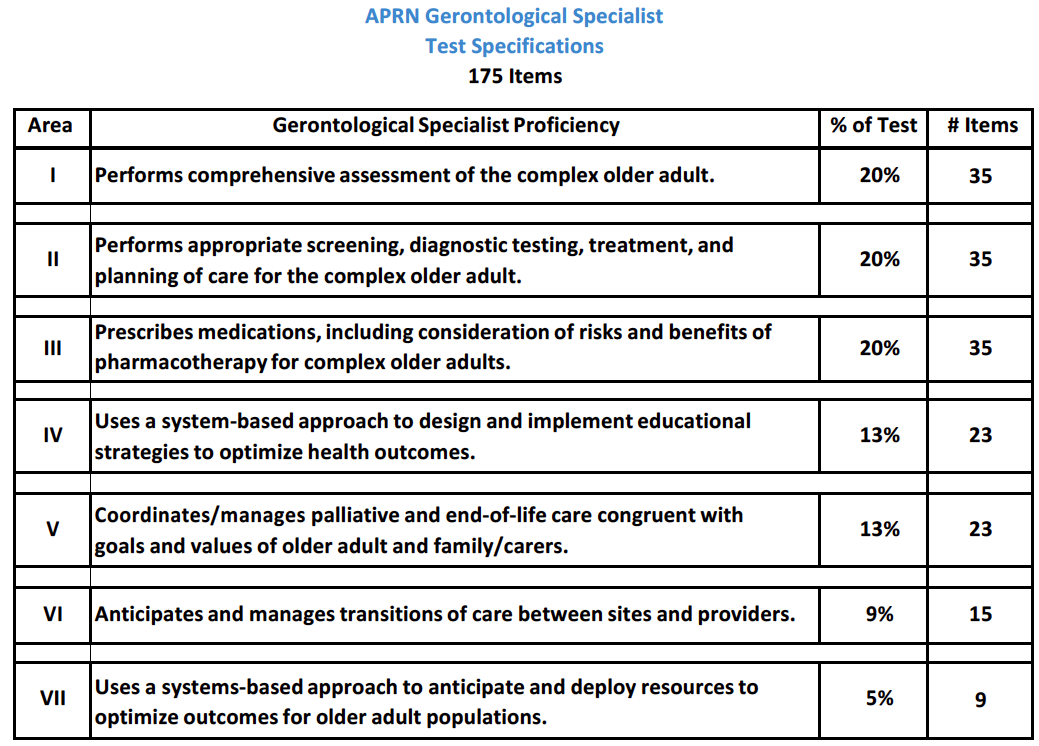 REFERENCE LIST
The list may be helpful in preparing for the GS-C certification exam.
Books
Halter, J.B., Ouslander, J.G., Studenski, S., High, K.P., Asthana, S., Supiano, M.A., Ritchie, C. (Eds.). (2017). Hazzard's Geriatric Medicine and Gerontology, 7th ed., New York: McGraw-Hill Education.
Ham, R.J., Sloane, P.D., Warshaw, G.A., Potter, J.F., & Flaherty, E. (Eds.). (2014). Ham's Primary Care Geriatrics: A Case-Based Approach, 6th ed. Philadelphia: Saunders/ Elsevier.
Ferrell, B.R., Coyle, N., & Paice, J. (Eds). (2015). Oxford Textbook of Palliative Nursing, 4th ed.  New York: Oxford University Press.
Kennedy-Malone, L., Fletcher, K.R., & Martin-Plank, L. (Eds.). (2014). Advanced Practice Nursing in the Care of Older Adults. Philadelphia: F.A. Davis.
Morley, J.E., Ouslander, J.G., Tolson, D., & Velias, B. (2013). Nursing Home Care. New York: McGraw-Hill Education.
Reuben, D.B., Herr, K.A., Pacala, J.T., Pollock, B.G., Potter, J.F., & Semla, T.P. (2016). Geriatrics at Your Fingertips, 18th ed.  New York: American Geriatrics Society.
Semla, T.P., Belzer, J.L., & Higbee, M.D. (Eds.). (2016). Geriatric Dosage Handbook, 21st ed. Hudson, OH: Lexicomp/ Wolters Kluwer Clinical Drug Information.
Singelton, J.K., DiGregorio, R.W., Green-Hernandex, C, Holzemer, S.P., Faber, E.S., Ferrara, L.R., & Slyer, J.T. (Eds.) (2015). Primary Care: An Interprofessional Perspective, 2nd ed. New York: Springer Publishing company.
Other references - Examples
American Geriatrics Society. (2015) Updated Beers criteria for potentially inappropriate medication use in older adults.
Medicare Benefit Policy Manual
https://www.cms.gov/Regulations‑and‑Guidance/Guidance/Manuals/downloads/bp102c08.pdf
Quality Assurance & Performance Improvement
https://www.cms.gov/Medicare/Provider‑Enrollment‑and‑Certification/QAPI/downloads/GuidanceforRCA.pdf
The National Long-Term Care Ombudsman Resource Center
https://www.cms.gov/Regulations‑and‑Guidance/Guidance/Manuals/downloads/som107ap_q_immedjeopardy.pdf
Revised National Pressure Ulcer Advisory Panel Pressure Injury Staging System (2016)
RECERTIFICATION
The GS-C credential is valid for five (5) years. Recertification is available by exam or by continuing education. Certified individuals receive courtesy recertification notices prior to the expiration of their certification. It is the certificants professional responsibility to know the certification expiration date.
Recertification applications should be submitted to GNCC no later than 30 days prior to your expiration date. For more information on GS-C recertification, visit GAPNA.org/recertification (available shortly).
NOTIFICATION OF RESULTS
For those who took the APRN Gerontological Specialist Certification (GS-C) exam at the Pharma Conference, you will be notified in 6-8 weeks of your results.

Bookmark/Search this post with