Older adults benefit when we -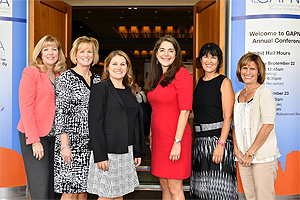 Collaborate with them, their families, our professional colleagues, and other decision makers to influence their well-being.
Foster a community of expert providers.
Create, apply and communicate knowledge specific to gerontological care.
Facilitate holistic continuity of care.
Consistently perform to the fullest scope of our education.
Take responsibility for both our personal health and our professional growth.
Embrace diversity and inclusiveness.
Contribute to a culture of continuous improvement.
Strategic Goals and Priorities
To delight our members by supporting their personal and professional growth, we shall -
create and provide continuing education.
encourage deeper member engagement.
present dynamic, relevant conferences, Comm/SIGs, online and other educational experiences.
provide networking opportunities for kindred spirits.
offer quality, easily-accessible, evidence-based, relevant resources.
To increase the influence of APRNs caring for older adults, we shall -
conduct, support, research, and disseminate best practices for the care of older adults.
collaborate with others to influence decisions that affect the quality of care of older adults.
advocate for all APRNs to perform at the full scope of their practice.
increase membership and member retention.
To model organizational vibrancy, we shall -
provide the GAPNA Website: assure an attractive, user friendly, relevant, information-rich, ever-changing web portal/online presence.
grow membership and alliances that support our vision and mission and are financially sustainable.
model policy-driven governance and collaborative management.
identify and develop future leaders.
Strategic Initiatives
Continuing education.
Member engagement.
Strategic collaboration that advances full practice authority.
Improved online presence.
Increase diversity/inclusiveness.