GLC Members Display Positive Spirit of Volunteerism
By Diane Stempek and Donna Hamill
The new year started off on a positive note for the Great Lakes Chapter (GLC) and continues to build!
Our first quarterly meeting was hosted at St. Mary Mercy hospital. Two members, Michelle Moccia, DNP, ANP-BC, MSN, CCRN, GS-C (ACP Facilitator), and Holly Favero, MSN, CNN, ACNP-BC (ANP Facilitator), presented: "It's About the Conversation," talking about end-of-life planning. We enjoyed a beautifully catered dinner and gathered in a relaxed setting to share our thoughts about the topic after hearing the presentation.
Diane Stempak, MSN, APRN, AGPCNP-BC, organized our 9th Annual Student Nurse Practitioner Mentoring Night held on March 20, 2019 in the spacious auditorium with adjoining classrooms at St. Mary's Hospital in Livonia, MI. Attendance was less than in prior years, but our Great Lakes Chapter acquired a few new student members.
GAPNA-GLC provides this SNP Mentoring Night to aid with transitioning from the student role to successful attainment as a practicing nurse practitioner. There are many steps required in this transitioning process, and our goal is to demystify these steps for each student NP. Student NPs from the universities in Southeast Michigan were invited to this event, with inclusion of primary, gerontological, family, and acute care programs.
The format for the Student Nurse Practitioner Mentoring Night was changed this year. Rather than three breakout sessions, each lasting 20 minutes, the planning committee chose to remove the scope of practice session. Session one presented information regarding certification, credentialing, and obtaining NPI, MA, MC, and DEA numbers. Session two presented information regarding collaborative practice agreements and contract/salary negotiations.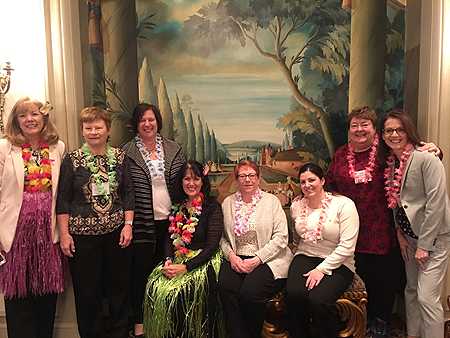 In place of scope of practice, we added a panel of three experts for the student nurse practitioners to question. The experts were Dr. Deb Dunn, an Adult-Gerontological Nurse Practitioner and Dean of the Graduate School at Madonna University; Karen Gray, an experienced Nurse Practitioner of Orthopedics with Ascension Health System; and Cathy Podvin, a Senior Human Resources employee with Henry Ford Health System. Ms. Podvin has experience hiring NPs.
GLC members Donna Hamill and Tom McConnell presented the certification/credentialing session, while Diane Stempek presented the collaborative practice agreement/contract/salary negotiations session.
Multiple GLC members volunteered during the SNP Mentoring Night. The volunteers assisted with registration, time keepers for each session, and distributed gifts to student winners of the drawings. Light snacks and refreshments were available for everyone in attendance.
To promote GAPNA and GLC, each student received a large insulated GAPNA tote bag. Each bag contained a small bag of candy tied with a GAPNA 20th Anniversary gift tag. We added multiple handouts promoting benefits of joining GAPNA.
Each student received a GAPNA pamphlet, a Save the Date card for the GLC Annual Conference held each November, a Student Director at Large Application, a new Nurse Practitioner Mentor Request form, an application for our Student Scholarship Award, and a Call for Posters application for the Fall GLC Conference.
In keeping with our goal of March Madness Membership, there was a laptop computer available at the SNP Mentorship Night. This fostered prompt joining by three students. The GLC volunteers were available to answer questions, and our GLC table was on display as well. The event was well received and successful.
Upcoming GLC Events
Our state-wide Nurse Practitioner Organization, Michigan Council for Nurse Practitioners (MICNP), hosted their 18th Annual Conference. Several GAPNA-GLC members also hold a membership with MICNP. Dr. Michelle Moccia presented a pre-conference session about 12 & 15 lead ECG and a breakout session entitled "Comprehensive Geriatric Assessment."
Donna Hamill was part of a panel discussion for NP students about taking their first steps into the profession. The chapter has a collaborative agreement with MICNP to have a table at each other's conferences that allows us access to several NPs who may not know of our organization. This is a great way to attract new members.
Several of our members attended GAPNA's Pharmacology Conference in Chicago. Our generous members contributed over $200 to GAPNA Gives Back which was directed to Big Brothers Friends of the Elderly Chicago. We are looking forward to the sunny skies of Hawaii next year for the 2020 Pharmacology Conference!
Tom McConnell, MSN, AGPCNP-NC, is our Conference Planning Committee Chair. The group has already secured sponsorship for all the meals at the event and some well-respected speakers!
We are looking forward to our next quarterly meeting which will be hosted by Sunovion. They will be presenting on "Lonhalaâ Magnairâ for COPD Treatment: The First LAMA for Inhalation Using Natural Breathing." During the business meeting portion of the night, we will be welcoming a new President, Nina Ganesh-Nandish, MSN, AGPCNP-BC, and a new treasurer.
We feel fortunate for the positive spirit of volunteerism in our group. We continually have new faces on our committees and are working on exciting projects. Indeed, 2019 is off to a great start!
---
Related:
Diane Stempek, MSN, APRN, AGPCNP-BC.
dstempek@yahoo.com
Donna Hamill, DNP, AGPCNP-BC, BC-ADM
dz7616@wayne.edu
Join your friends at the 2019 GAPNA Annual Conference, October 3-5, 2019, in Las Vegas, NV.

Register today!