Hilton Chicago Sight of Contemporary Pharmacology Conference
GAPNA's Contemporary Pharmacology & Prescribing in Older Adults conference will be held March 28-30, 2019, at the Hilton Chicago.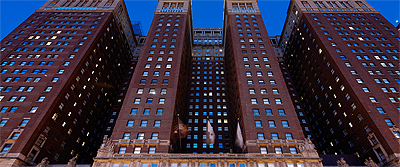 Located on South Michigan Avenue overlooking Grant Park, this classic hotel offers a convenient location to Chicago attractions, and many amenities that provide added benefits to your accommodation experience, such as the indoor swimming pool and the largest hotel fitness center in Chicago.
For dining and relaxing, classic collides with cool for mixing and mingling. Take a cozy seat and decompress with the tranquil glow of the fireplace and glimmering chandeliers while gazing upon the activity along Michigan Avenue and Grant Park with handcrafted cocktail in hand at 720 South Bar + Grill, where you'll enjoy a taste of local Midwest flavors, featuring seasonally inspired menu selections that focus on local ingredients.
[Visit choosechicago.com]
Gather for pre- or post-conference discussions or connect with friends and colleagues over a pint at Kitty O'Sheas. Try the neighborhood favorite Green Bloody Mary during weekend brunch and bite into chef's award-winning mac 'n' cheese prepared with braised short ribs, corn bread, salted caramel, and tabasco onions.
Also enjoy the versatility of Herb N' Kitchen for grab and go selections. Fresh, flavorful, and ready when you are, this versatile grab and go destination offers pastries from scratch, artisan sandwiches and salads, vintage labels, local and craft brews, Starbucks®, countless soda fountain options, and plenty of snacks to keep you charged throughout the day and night
Join your friends at the 2019 Contemporary Pharmacology and Prescribing in Older Adults Conference, March 28-30, 2019, in Chicago, IL.

Register today!