Annual Conference Features Robust Content and New Acute Care Track
GAPNA's 2019 Annual Conference, October 3-5 in Las Vegas, NV, will feature inspiring speakers, professional networking, and dynamic content – including a special track focused exclusively on acute care gerontological nursing.
Attendees can earn up to 21 contact hours, including pre-conference workshops, on topics of prime interest to their practice, with pharmacology credit available for select sessions and additional workshops.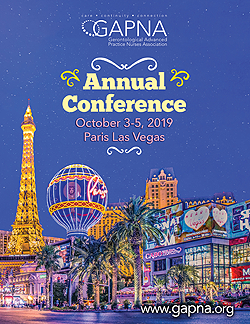 Here is a sample of the robust content to be featured at the conference:
Red Flags and Non-Ortho Causes of Back Pain
Professional Brand: Using the Nuts and Bolts of Social Media
Understanding the Nuances of Hospice Care for the Geriatric Patient
The Impact of Menopause and Senior Sexual Health in Women Living with HIV
Diabetes Management: The Art of Treating the Older Adult
Federal Policies Affecting Older Adults, Family Caregivers, and Nurses
Palliative Care Guidelines Update
UTIs in Older Adults
Oral Care
Cultural Factors Influencing Advanced Care Planning and EOL Discussions
Acute Care Track
Best Practices to Prevent Geriatric Decline During Hospitalization<
Difficult to Manage Pulmonary Conditions in the Acute Care Setting
Acute Abdomen
Geriatric Surgery Verification Program: Role of the Gerontological Advanced Practice Nurse
Transplantation and the Geriatric Patient: Implications for the Advanced Practice Nurse
Geriatric Trauma Management Across the Care Continuum
Pharmacology Hours Offered
Sleep Disturbances in Dementia
Management of Obesity in Older Adults in Primary Care
Transplantation and the Geriatric Patient: Implications for the Advanced Practice Nurse
Safety and Utility of Cannabis in the Elderly
Don't miss this outstanding educational opportunity to improve the lives of the geriatric population and enhance your professional practiceoin your friends at the 2019 GAPNA Annual Conference, October 3-5, 2019, in Las Vegas, NV.

Register today!