Accomplishments Mark a Successful Year
by Cindy Nissen
Valerie Gruss, APN, was honored as an official delegate of the Chicago Sister Cities International, Chicago-Shanghai Social Service Exchange Program, October 2017. This was the first time nursing was represented as part of the delegation.
During the exchange, Valerie learned the United States and China face similar challenges: a growing elderly population with complex needs and a diminishing geriatric workforce. Care of the increasing older adult population is a priority and filial piety is imbedded into the Chinese culture.
China is working to increase its geriatric workforce and to enhance the care they provide. Their geriatric care teams use a patient-centered module of care with a focus on maintaining Chinese traditions, enhancing individual health, and improving public health.
Forty-four CGAPN members attended the 36th Annual GAPNA Conference in Nashville, TN. Kimberly S. Blanchard and Eleanore Whelan presented their clinical project, "Culturally Sensitive Diabetes Self-Management Program for Older Adults in a Community Setting."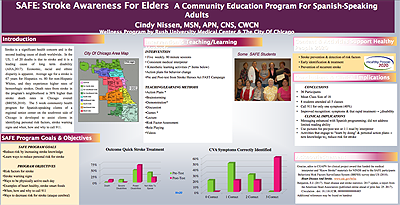 The poster, "SAFE: Stroke Awareness for Elders: A Community Health Education Program for Urban Spanish-Speaking Older Adults," was developed by Cindy Nissen. Lory Maltby and her DNP student Amila Tomas shared their experience in evaluating a NP-led coordinated care program in post-acute care.
Amy Lewitz and Pat McCann presented "Antipsychotic Medication Use in Illinois Skilled Nursing Facilities: A Rational Approach to Change" at the Illinois Healthcare Association's 67th Annual Convention and Expo in Peoria, IL. This work was featured in a cover story in the Winter 2017 issue of The Director, Journal of the National Association of Directors of Nursing Administration in Long Term Care (vol. 25, no. 1)
CGAPN is looking forward to celebrating its 20th anniversary in 2018 and preliminary plans are under way to determine the best way to celebrate this milestone. Beth Rochford is leading this effort.
At our August meeting, Tricia Littig, nephrology nurse practitioner, provided an in-depth CE presentation "Everything You Wanted to Know About Kidneys But Were Afraid To Ask."
Our November meeting featured Georgeanna Rechner-Neven, clinical pharmacy specialist, NSICU & MICU, Rush University Medical Center, who presented "Don't Be Shocked by Sepsis."
Gift cards totaling $200 were donated by our members as holiday gifts for participants at Little Brothers of the Poor, Friends of the Elderly program.
View the select posters from the 2017 GAPNA Annual Conference. Poster presentations will remain available online for 1 year after the conference.
Cindy Nissen, CGAPN
rocket88nurse@aol.com