Annual Student Night Held
by Katherine A. Evans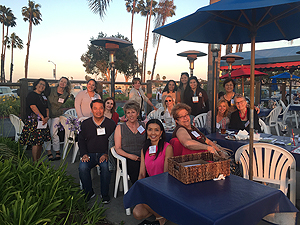 The Southern California Chapter of GAPNA held its 3rd Annual Student Night to bring together graduating and enrolled geriatric nurse practitioner students to celebrate and network with seasoned nurse practitioners.
A booklet was provided with much "need to know" information on the DEA, CURES, NPI, CVs, and questions to ask on interviews.
As one DNP commented, "I wish I had this information when I graduated as a new NP."
This event has been a successful member recruitment tool for the SoCal Chapter. Follow the Southern California Chapter of GAPNA on Facebook.
Karen Shore, MSN, ANP, NP
shorek@uci.edu
Photo Caption: Southern California Chapter members enjoyed the 3rd Annual Student Night.