Cash Cab Rolls into Nashville and Everyone Is a Winner
by Patricia Vermeersch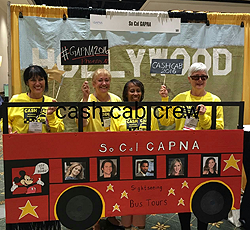 Cash Cab is back for GAPNA's Annual Conference! Look for the roving Cash Cab with yellow-hatted drivers or yellow-shirted crew at the Research Committee booth in the Exhibit Hall Thursday (10/5) and Friday (10/6) during the conference.
Quiz questions this year will include not only evidence-based practice and research topics, but also queries about Nashville, the presenters, exhibitors, and GAPNA. Everyone is a winner with the GAPNA Cash Cab, but those with more correct answers may win real cash and a chance to win a gift card and/or a 1-year membership with GAPNA! Look for the "card" in your registration packet at the conference.
Also again this year we will have the "Ask the Experts Booth" to assist you with any questions about your project, research, or manuscripts/abstracts. We encourage you take advantage of this free service during the Exhibit Hall events Thursday and Friday to help you improve or develop your ideas.
Finally, be sure to attend the Research Committee meeting during the conference if you are interested in serving. Committee and Special Interest Group Meetings will be held Friday, October 6, from 4:30 to 5:30 p.m. We are an active group with experts from across the nation!
Patricia Vermeersch, PhD, GNP-BC
valerie.flattes@nurs.utah.edu
Photo caption: The Research Committee Cash Cab will be riding around the Exhibit Hall during GAPNA's Annual Conference in Nashville, TN.
Join your friends and colleagues in Nashville.