Making the Most Out of Social Media during the GAPNA 2016 Annual Conference
by Amanda Cotter
With GAPNA's 2016 Annual Conference in Phoenix just around the corner, I encourage all members to become involved in GAPNA's social media outlets and be proactive in creating social media pages for their local chapters to help promote GAPNA membership, as well as conference attendance.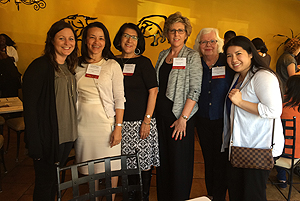 GAPNA So Cal invite you to their booth for
photo opportunities during GAPNA's 35th
Annual Conference in Phoenix.
GAPNA currently has its own Facebook- and Twitter pages, and LinkedIn account.

View and at-a-glace resource page. A few local chapters also have their own social media pages on these sites, as well as Instagram.
Social media can act as a great resource for GAPNA members. It provides a platform to share information, discuss current issues, promote individual and chapter involvement in GAPNA, and allows engagement with the public. This can be done by posting comments or links to articles; sharing pictures of events; tagging GAPNA, local chapters, and individuals in Facebook posts, "tweets," and Instagram photos; and using "hashtags" to get the conversation started while promoting membership and engagement.
For those who are interested in learning helpful tips about how to get the most out of social media sites, including Facebook, Twitter, and LinkedIn, I encourage you to review the social media primer that was put together by Rosaria Mineo, the Social Media and Marketing Manager at GAPNA's National Office. View "Getting Social with GAPNA" in the Chapter Resources section. The primer is a valuable tool for members who are new to social media or feel like they may be missing out on some of the great ways social media can be used to enhance your GAPNA membership experience. It is also a helpful resource for chapter and committee members who are interested in setting up their own social media channels.
In an attempt to promote social media within GAPNA and our local chapter, the Southern California Chapter, who won a free booth at GAPNA's Annual Conference for March Madness, is going to have a "So Cal" photo opportunity in our booth for individual and group chapter photos that can be posted to social media channels. Visit our booth during the conference to take pictures in front of iconic So Cal landmarks and upload them to social media apps with the hashtag #GAPNA2016 and tag GAPNA and your local chapters.
Also, for those of you who attended the GAPNA Pharmacy Conference in April, you likely experimented with the GAPNA 2016 app. A similar app will be available to those who register for the 2016 Annual Conference in Phoenix this September. The conference app will allow access to speaker materials, live updates, a photo feed, maps, and much more. It will also allow you to communicate with others at the conference in real time. Just make sure you're also posting to other GAPNA social media channels so those who aren't at the conference can stay connected! Keep your eye out for more information to come.
Follow GAPNA's social media pages and hashtag #GAPNA2016 to be part of the conversation!
Amanda Cotter, MSN, AGPCNP-BC
GAPNA So Cal Chapter Secretary
amandajcotter@gmail.com