Academy of Medical-Surgical Nurses Publishes New Core Curriculum for Medical-Surgical Nursing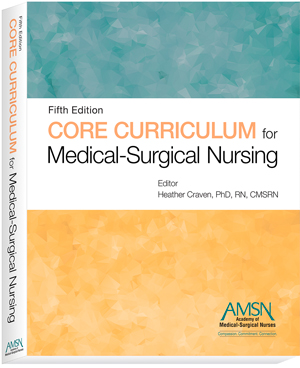 The new Core Curriculum for Medical-Surgical Nursing, Fifth Edition reflects the rapid-fire changes in the specialty and helps nurses achieve the ultimate goal of improved patient care.
According to Editor Heather Craven, PhD, RN, CMSRN, "The Core promotes excellence in medical-surgical nursing by providing a comprehensive foundation for practice. It also drives the specialty forward because nurses use it as a guideline for certification, as a reference for everyday practice, and as a springboard for what they can achieve in the future."
The text was written by the country's top medical-surgical nursing experts and extensively reviewed by additional experts. It contains 600 pages, 29 chapters, and a detailed reference list.
New content includes:
Increased emphasis on surgical procedures and recommended nursing care and interventions.
Case studies to stimulate critical thinking and help nurses apply the content in their day-to-day practice.
Expanded references that include Internet resources.
The Core is designed for both new and experienced nurses who practice in a broad variety of settings. It's also a guideline for nurses preparing for the Certified Medical-Surgical Registered Nurse (CMSRN®) exam and is a template for review courses focusing on medical-surgical nursing.
The Core can be purchased online. The AMSN member price is $89, and the regular price is $119.
For more information, visit the AMSN Website>Publications, email, or call the National Office at 866-877-2676.