The Official Newsletter of the Gerontological Advanced Practice Nurses Association — Founded in 1981.
Published quarterly, the newsletter provides a variety of interesting and informative content for our readership.
Each issue details what's new in the association, including volunteer opportunities, product announcements, and conference plans, industry news and a list of upcoming events in your specialty.
Beginning with the Winter 2015 Issue, the GAPNA Newsletter is presented exclusively online in a modern format within the GAPNA Website. All newsletters will be archived and accessible at any time with all devices - computer/laptop, phone, tablet, etc. There will no longer be a PDF of the newsletter.
Enjoy new features such as "Rising Star," "Member Spotlight," and "Patient FAQs." These areas of the newsletter are indexed by publication date, and subject! The Clinical Research Corner articles are already indexed the same way, and is a very helpful area of the GAPNA Website.
The President's Message - In addition, the President's Message (as in the old print editions) will always be the first page of every newsletter, and always available to view!
---
All archived issues in the tabs below are available to freely download.
---
Tell Us About It!
GAPNA wants to hear about your latest news, items of interest, words of wisdom, and other interesting tidbits from the world of geriatric advanced practice nursing. Make it brief — 200 words or less (photo's welcome) — and we'll make it happen by publishing your news and views in the GAPNA Newsletter (available only members as a benefit of GAPNA Membership) and/or on the GAPNA Website in Your Voice!
Let's Get Started!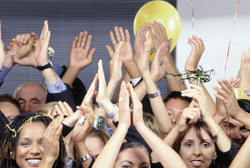 Here are just a few ideas/suggestions/topics that you could write about:
Received a promotion or award?
Presented at a clinical meeting?
Developed a practice pointer or innovation?
Experienced a challenging or lighthearted moment with a patient?
Need feedback from your colleagues about a clinical or professional situation?
Visited a cool web site or downloaded a helpful app?
Bookmark/Search this post with