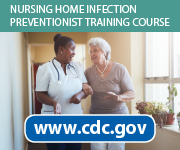 Did you know there is a training course available from the CDC in collaboration with CMS to become an infection preventionist?
The course provides you with 19 FREE CNEs. In the course, you will learn a specialized approach to infection prevention & control (IPC) in nursing homes.
The training covers: core IPS activities and recommended IPC practices to reduce pathogen transmission, healthcare-associated infections, and antibiotic resistance.  
Consider sharing this course with your interprofessional colleagues in your LTC facilities.