By: Kanah May Lewallen GNP-BC, Post Acute/Long Term Care SIG (August, 2016)
Purpose: To provide the APRN with tools for the evaluation of common urological issues in the PAC/LTC patient.
While many conditions affect the quality of life for patients in post acute/long term care (PAC/LTC) not many have as significant of an impact on their quality of life as incontinence. The rate of urinary incontinence (UI) in PAC/LTC is between 46 to 76% (Centers for Disease Control and Prevention [CDC], 2014).
The evaluation and management of urological issues can be a difficult task in these complex patients, this evaluation would typically be completed by specialists in urology and/or gynecology. It is often not possible to have these patients seen by specialists leaving the APRN practicing in PAC/LTC to manage the urological issues.
In addition to the impact on the patient's health and quality of life there are regulatory concerns driving the need for the evaluation and management of urological conditions in the PAC/LTC patient.
The Centers of Medicaid and Medicare Services have guidelines focused on the evaluation and management of incontinence in PAC/LTC (Centers for Medicare and Medicaid Services [CMS], 2011). The F-Tag 315 is the tag that focuses on UI (CMS, 2011).
With these regulations in place it is required that patients with UI be evaluated and the following algorithms can assist the APRN in the evaluation and management of urological conditions in PAC/LTC patients.
Urinary Incontience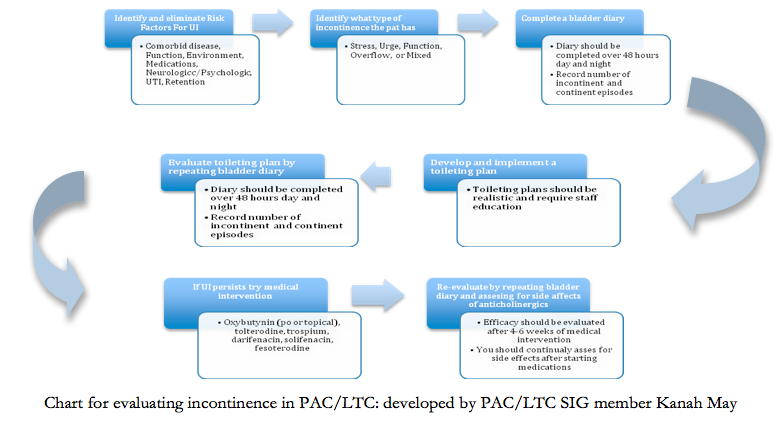 Urinary Retention/Foley Catheters
In addition to focusing on UI F-Tag 315 includes guidelines on the use of foley catheters in the PAC/LTC setting (CMS, 2011). The regulations are very specific as to the indications that allow a Foley catheter to be used in patients in this setting.
The chart below outlines some of the regulations on foley catheters and also provides the APRN with some tools for evaluating and managing urinary retention in PAC/LTC.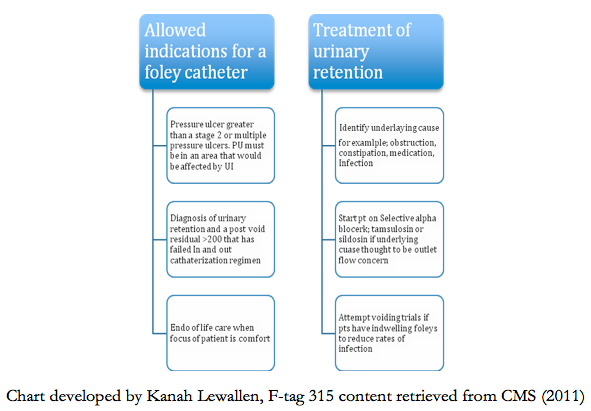 ---
References
---
Resources available for Urological disorders & References

Download this article.