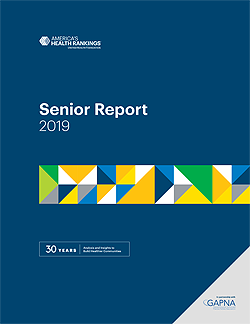 The United Health Foundation released the 2019 America's Health Rankings Senior Report. This report, created in partnership with the Gerontological Advanced Practice Nurses Association (GAPNA), builds on the United Health Foundation's ongoing efforts to improve the health America's seniors.  
Among the 2019 report's key findings:
Encouraging progress in the use of services that help older adults remain in their homes and communities.

The number of home health and personal care aides nationwide has increased by 550,000 since last year.
Hospice care among Medicare decedents has increased 48 percent since 2013.
The Supplemental Nutrition Assistance Program (SNAP) now serves 5.4 million eligible seniors, a 13 percent increase since 2015.

The 65 and older population still faces notable challenges to their health and well-being. Most notably, depression increased 19 percent in the past year, with significant increases in 11 states. Nearly 8 percent of seniors reported frequent mental distress, with female seniors reporting a higher prevalence of frequent mental distress (8.7 percent) compared with male seniors (6.8 percent).
Hawaii remains the healthiest state for seniors, followed by Utah, Connecticut, Minnesota and Colorado. Mississippi has the greatest opportunity for improvement in overall health, followed by Kentucky, Louisiana, Oklahoma and West Virginia.
Visit AmericasHealthRankings.org and watch an overview video on America's Health Rankings to learn more.
---
RELATED INFORMATION:


Health Care for America's Seniors at a Tipping Point - GAPNA President Analyzes Results, Implications of Major National Study