Leslie Chang Evertson, DNP, RN, GNP-BC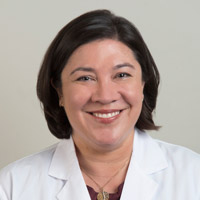 ​
BSN – Sonoma State University
MSN (Geriatric NP & Forensic CNS) – University of Colorado at Colorado Springs
DNP – Fresno State University
Associate Director of Advanced Practice Providers (APPs)
Dementia Care Specialist Nurse Practitioner UCLA Health
Describe a day in your life.
I currently have two roles at UCLA Health. The first is as the Associate Director of APPs, where I have the honor of supporting the amazing, advanced practice providers who work in our four hospitals and over 300 clinics. I have also maintained my clinical role for 11 years as a Dementia Care Specialist in the UCLA Alzheimer's and Dementia Care program. In addition to seeing patients, I am also involved in DCARE, a pragmatic trial comparing healthcare systems and community-based dementia care in four sites across the country and in the program's dissemination efforts.
What inspired you to work in geriatrics?
My maternal Chinese grandmother lived with us intermittently when I was young. When I went to college, she moved in with my mother full-time. This was expected and considered normal. In school, I was struck by how many of my classmates told me that they did not want to work with "old people." I thought to myself, I enjoy the company of older adults, a connection that was fostered in my family, so I wondered if I could incorporate that into my clinical care. When it came time to choose an area of NP practice, it was an easy decision.
How do you see the field of geriatrics evolving in the future?
As the U.S. population ages, primary care is going to be taking care of more and more geriatric patients. I expect to see more older adult preventative care and wellness in addition to more ways to care for homebound older adults.
What is your favorite part of your job?
Administratively, my favorite part of the job is to really get into the issues that concern APPs the most, such as job satisfaction, working at the top of their license, and respect in the workplace. Clinically, the research and dissemination work has been rewarding, but my very favorite part of the job is working with people living with dementia and their families. I have developed relationships and connections with my local community over the last 11 years that I find motivating and remind me why I went into the field to begin with.
What are your hobbies/favorite activities?
I have two kids (13 and 15) who are involved in sports, so my husband and I are usually either driving someone to practice or watching someone play. I also enjoy traveling, reading, and cooking.
Where do you hope to be in 5 years in your career?
It is my hope that the UCLA Office of Advanced Practice Providers will grow and expand so that we are connected to APPs across UCLA Health in a more comprehensive and forward-thinking way. Healthcare is changing, and APPs are, more than ever, essential to the growth and delivery of quality patient care across the lifespan. I plan on being a part of that change.
How long have you been a GAPNA member?
I have been a member of GAPNA for the better part of 10 years.
How and why did you get involved with GAPNA as a leader?
My work at UCLA led me to find a nursing organization that we could partner with to help create dementia care education. GAPNA was a perfect fit! In addition to GAPNA faculty (Sherry Greenberg, Carolyn Clevenger, Jennifer Serafin, and Michelle Moccia) who help to teach the dementia care skills pre-conference at the annual meeting, the GAPNA Library also houses our online education. Over the last three years, I have been a member of the annual conference planning committee as much to give back to an organization I care about and to spend time with colleagues who have become friends.
Anything else you'd like us to know?
I appreciate the professionalism, education, and collegiality I have experienced with GAPNA, and I plan to be a member as long as I am working in the field. I regularly encourage students to join and find their people!