Summary of AANP Health Policy Conference 2021
By Patrick Luib
The American Association of Nurse Practitioners held its annual Health Policy Conference online from February 25 to March 11, 2021. Several advocacy experts discussed the priorities of Congress and the Administration and their potential impact on nurse practitioners (NPs) and patients.
While much information was shared, there remained many unanswered questions. For example, during the telehealth and COVID-19 session, the biggest concern regarding the policy changes that have occurred during the public health emergency (PHE) is whether they will continue after the emergency ends.
Main talking points from three sessions are highlighted and summarized below.
Government Affairs
This session covered current state and federal policy issues and provided an update on active legislation at the state and national levels. Key updates included:
The Coronavirus Aid, Relief, and Economic Security (CARES) Act, passed in 2020, permanently authorized NPs to certify and recertify Home Health Care Services for their Medicare and Medicaid patients (Section 3708)
2021 Medicare Physician Fee Schedule Final Rule - Diagnostic Test Supervision
Centers for Medicare & Medicaid (CMS) Innovation Model Waivers

NPs authorized to certify patient's need for therapeutic shoes to treat their diabetes
Removed barriers for NPs to participate in Direct Contracting Model

Medication Assisted Treatment – authorized NPs to treat based on patient limits
Federal Regulatory Policies for NPs
This session provided information on COVID-19 federal agency policies, federal waivers and flexibilities pursuant to PHE, and included an update on information regarding the 2021 Medicare Physician Fee Schedule Final Rule. NP Federal Regulatory updates included:
CARES Act Home Health Implementation: primary issues are Medicaid, Home Health Licensing, and Health Insurance Statutes/Regulations
PACE - Final Rule as of 6/3/2019: changed the regulation that each IDT (interdisciplinary team) must have a primary care physician to instead require a primary care provider and authorized NPs to fill this role
Federal waivers and flexibilities pursuant to PHE included NP waivers (e.g., CMS amended the definition of direct supervision by the practitioner to include virtual presence through audio/video real-time communications technology through the end of the PHE or 12/31/2021, whichever is later); telehealth waivers (e.g., expanded ability to use telehealth to meet mandatory visit or face-to-face requirements for home health, hospice, hospital, and skilled nursing facilities); and Medicare COVID-19 testing coverage policy updates (e.g., expanded list of clinicians authorized to order COVID-19 diagnostic tests for Medicare beneficiaries).
Final evaluation and management documentation guidelines as per 2021 Medicare Physician Fee Schedule was discussed. In addition to an estimated 7% increase in reimbursement for NPs, there were several legislative updates for telehealth. For example, according to 2021 Consolidated Appropriations Act, after the end of PHE, originating site and geographic restrictions for Medicare mental health telehealth are lifted if clinician has provided in-person service to patient within last 6 months.
Another topic discussed was Open Payments Program (OPP), a national disclosure program that promotes a transparent and accountable healthcare system by making the financial relationships between applicable manufacturers and group purchasing organizations and healthcare providers (physicians and teaching hospitals) available to the public.
Per SUPPORT (Substance Use-Disorder Prevention that Promotes Opioid Recovery and Treatment for Patients and Communities) Act, NPs are added to the OPP for data collection beginning in calendar year 2021. Data reported to CMS by the 2022 reporting deadline will be released in 2022. It is important for NPs who are registered with OPP to review and dispute data before it is made publicly available.
The last topic covered was an overview of CMS new payment models. These include Primary Care First, Direct Contracting, Community Health Access and Rural Transformation (CHART) Model, and Value in Treatment Demonstration. For more information about these models, visit CMMI (Center for Medicare and Medicaid Innovation).
How Evidence Informs Policy: Using Research to Support NP Advocacy
This session covered opportunities to learn about strategies on how best to use evidence to help inform policymaking (See Figure 1 below).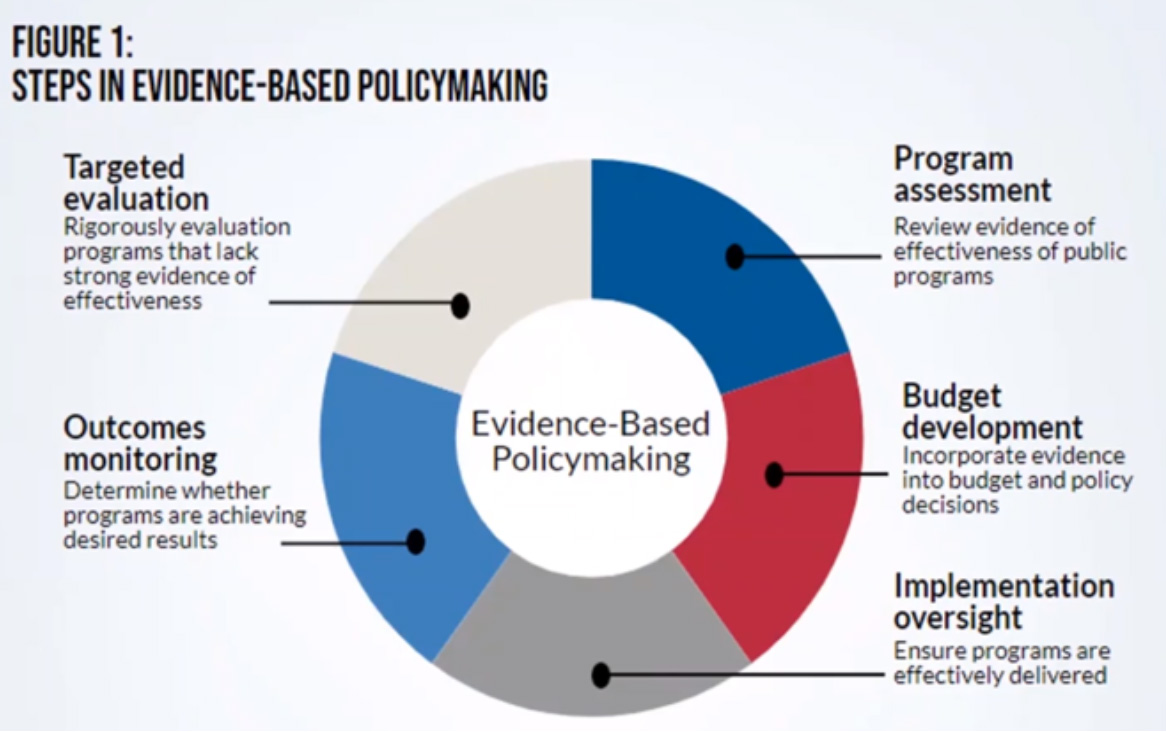 The session was aimed at expanding knowledge of scholarship and research studies that form the foundation of NP advocacy and policy. Challenges to advocacy for NP policy include:
Research to policy pipeline
Specialist knowledge required to interpret and critique research studies
Quality of data and datasets
Timeliness of studies
Mismatch between current evidence and evidence needed to inform policymaking
Ability to generalize across geographies and contexts
Trust between politicians and researchers
Clearly articulating the policy problem and interventions that contribute to solutions
Given these challenges, evidence should be critiqued to evaluate its appropriateness for the situation and advocacy goal. Moreover, NPs are encouraged to distill information for their audience into short, consumable interpretations specific to the identified solution. While evidence-based approaches were popular in the past, evidence-informed approaches allow for additional factors to be integrated.
Patrick Luib, APRN, BC, MSN
patrick.luib@gmail.com