Rachel Zimmer, DNP, RN, AGPCNP-C
Assistant Professor
Wake Forest Baptist Health, Winston-Salem, NC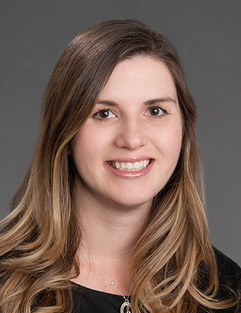 Where did you earn your degree(s)?
MSN, NP-C at UNC Greensboro, DNP at East Carolina University
Describe a day in your life.
I have been a House Call provider for about 8 years and see my primary care patients 1 day every week. Otherwise, I am the founder and director of Community Health Alliance, a mobile health and food prescription program.
My programs help provide access to healthy foods for older adults with food insecurity and provide free health care for people who do not have health insurance.
What inspired you to work in geriatrics?
I am always grateful to be able to care for older adults. Their resiliency and gratefulness inspires and motivates me daily.
How do you see the field of geriatrics evolving in the future?
I see a larger role for innovative programs that integrate the health care of older adults with strategies such as food prescriptions, telehealth, and improved in-home support for caregivers and patients.
What is your favorite part of your job?
Patient care, hands down. I love to sit and listen to patients tell me about themselves and what is important to them.
What are some of your hobbies/favorite activities?
Hiking – our family loves searching for waterfalls and mountain views. I am also an avid reader and enjoy a good mystery.
Where do you hope to be in 5 years in your career?
DI would love to be developing programs that provide innovative care for older adults and addressing their holistic needs.
How long have you been a GAPNA member?
Since 2012.
How and why did you get involved with GAPNA as a leader?
I was asked to be Chair of the House Calls SIG by Ron Ordona in 2018 and have enjoyed that role. It has helped me get to know providers from all over the United States and hear about all the great work NPs across the country are doing. We are a great profession!
Any workplace honors you'd like to mention?
APP of the Year 2018.
Anything else you'd like us to know?
I am passionate about helping provide better care for older adults who are undeserved and would love to see more support for programs that address social drivers of health, such as food and housing insecurity.