Member Spotlight: Marianne Boettger
By Cindy Gersternlauer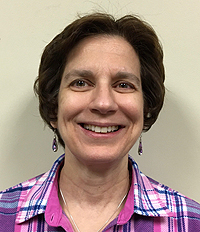 Marianne Boettger, MSN, RN, GNP-C, graduated from the Jewish Hospital School of Nursing, St. Louis, MO, in 1979. In 1987 she earned a BSN from Methodist College in Fayetteville, NC.
After working for several years in various areas of nursing, she returned to school to become a nurse practitioner (NP). She graduated from St. Louis University, St. Louis, MO, with an MSN in gerontology and was certified as a gerontological NP in 1998.
She joined GAPNA in 2001 and the Historical Committee in 2011. She has practiced as an NP both in nursing homes and clinic settings. She currently works at the Veterans Administration outpatient clinic in Galesburg, IL. Her hobbies include reading and quilting.
Marianne generously donated her time and energy into making a beautiful quilt for the 2018 GAPNA Annual Conference, with proceeds going to the Historical Committee's archiving initiatives.
Cindy Gersternlauer, ANP-BC, GNCS-BC, CDE, CCD
cgerstenlauer@comcast.net