HHS Secretary Azar Speaks to 2020 AANP Health Policy Attendees
By Ron Billano Ordona, DNP, FNP-BC
Health and Human Services Secretary Alex Azar, at the beginning of the COVID-19 pandemic and just before the subsequent lockdown and travel restrictions, spoke to nurse practitioner (NP) attendees from across the country gathered in Washington, DC, March 8-10 for the 2020 American Association of Nurse Practitioners Health Policy Conference.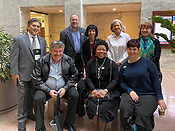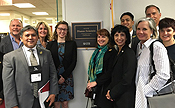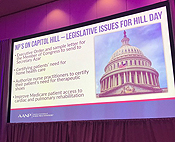 One of the most memorable and inspiring session was related to the Veterans Affairs (VA) Full Practice Authority (FPA) journey shared by Penny Kaye Jensen, DNP, FNP‐C, FAAN, FAANP, FNAP, liaison for APRN National Policy at the Department of Veterans Affairs. This session was not only informative but, more importantly, inspiring especially for states that are still working on getting FPA. We wish our VA colleagues much success, as they represent the best of FPA. According to Jensen, in 2020, FPA in the VA has become a mandate, where federal law supersedes state law. As of the session, 134 of the 140 (96%) VA medical facilities amended their bylaws for FPA.
Jean D. Moody‐Williams, RN, MPP, Director, Quality Improvement, Centers for Medicare & Medicaid Services (CMS) Office of Clinical Standards and Quality, presented an update that CMS is moving towards value; driving health care toward payment for value, not volume, to lower the growth in healthcare spending.
The keynote speaker speaker, Donna Brazile, a veteran Democratic political strategist and syndicated columnist and Fox News contributor, provided a light and at times amusing view of the upcoming 2020 election as well as her own real-life experiences in the political arena. Brazile is currently on the board of the National Democratic Institute, the Congressional Black Caucus Foundation, and the Joint Center for Political and Economic Studies. She is an adjunct professor at Georgetown University.
Visiting Capitol Hill was the highlight of the conference and the most insightful part in gaining a deeper and more real-worldly understanding of the legislative process. The visit underscored the importance of policy work and advocating for NP-focused policy, politics, and legislation that is the lifeblood to the future of the NP profession.
As of this writing, an important barrier to practice has been lifted. The bill on the Home Health Planning Improvement Act has been catapulted into Law as Sec 4407 of S.3548 or the Coronavirus Aid, Relief, and Economic Security (CARES) Act. This provision modernized Medicare and allowed NPs, clinical nurse specialists, and physician assistants to certify and recertify in Home Health on or before September 2020 (6 months). In the interim, CMS has issued guidance in light of COVID-19 crisis. The next steps include rule-making and changes in regulation within CMS and possibly on-the-ground information dissemination toward local home health agencies.
Other talking points at the Hill that will continue to be advocated by coalitions included access for patients to diabetic shoes (S.237/H.R.808: Promoting Access to Diabetic Shoes Act) and cardiac and pulmonary rehabilitations (S.2842/H.R.3911: Increasing Access to Quality Cardiac Rehabilitation Care Act of 2019) by allowing advanced practice clinicians to order these services.
Exploring policy and legislative issues impacts not only the healthcare profession but, more so, the patients that we serve. This policy work is the right step toward impacting positive changes in health care.
Ron Billano Ordona, DNP, FNP-BC
ron@seniorcareclinic.org
---
Note: This article was written for the GAPNA Health Affairs Committee in connection with the scholarship grant to attend the 2020 Health Affairs Policy Conference, Washington, DC. Additional details of presentations are available upon request. Mr. Ordona is a member of the GAPNA Health Affairs Committee, Past-Chair of the GAPNA House Calls SIG, President of the NCCGAPNA, and inaugural fellow of the GAPNA Leadership Institute.