GAPNA – Advocating for Excellence in Care of Older Adults during the COVID-19 Pandemic
By Deborah Dunn
"Too often we underestimate the power of a touch, a smile, a kind word, a listening ear, an honest compliment, or the smallest act of caring, all of which have the potential to turn a life around."
– Leo Buscaglia
Every May we recognize and celebrate nurses. There's usually a show of appreciation at work, where we receive morning donuts, a free lunch, and some nurse swag – which we end up wearing all year – because we really like our nurse swag! But this year, the celebrations and recognitions are very different. Communities are recognizing and celebrating their healthcare workers and first responders like never before.
There are parades of fire engines and police vehicles with their lights and sirens on; lights flashing so brightly we have to squint our eyes, sirens so loud we think about covering our ears. Police and firefighters in uniform, standing six feet apart, and clapping as we walk into the building. Neighbors are displaying Thank You to Our Heroes signs on their lawns and porches, and drawing inspirational messages in colorful chalk on neighborhood sidewalks and driveways. These acts of caring and support help to restore the fortitude and strength needed, for today and tomorrow.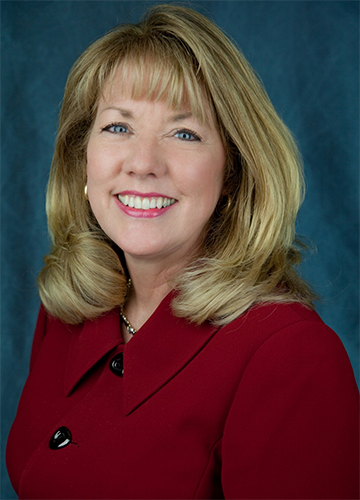 I am incredibly proud of you – whether you are on the frontlines providing care, teaching and supporting new nurses and new practitioners, researching and leading practice innovation, or advocating for policy that advances practice and the healthcare of older adults. You are making a difference. I am certain these efforts will positively impact practice and outcomes for older adults as we go through and beyond this pandemic.
On behalf of the GAPNA Board of Directors (BOD), thank you for all you are doing. We wish you a very happy and safe Nurses Month!
GAPNA Board takes Unprecedented Actions
In the last 8 weeks, the landscape of our lives, work, home, and community have changed drastically. During this time, in addition to our monthly meetings, the GAPNA BOD convened two additional emergency board meetings early in the pandemic crisis to address the important issues of newly implemented travel restrictions, social distancing, and the anticipated intensified healthcare needs of the public, and how these events would impact our members. These deliberations led us to the important conclusions that we needed to do all that we could for the health and safety of our members, and that we needed to support our members as you navigate the uncharted waters that lay ahead.
The critical actions taken, were to (a) reschedule the 2020 Pharmacology Conference, (b) encourage cancellation of face-to-face chapter annual conferences, and (c) quickly establish a COVID-19 resource webpage on the GAPNA website. As events have unfolded, we have implemented supports for members, advocated for appropriate care of older adults, and actively advocated for policies that promote access to APRNs and reduce barriers to APRN practice and provide safe work environments.
Supporting Our Members
On the GAPNA COVID-19 Resources webpage we have compiled a number of resources that focus on the essential information you need to care for older adults across the healthcare continuum during the pandemic. GAPNA members have helped curate the latest resources for this webpage. Also located on this page is a new video series, Facing Forward. In this video interview series, we tapped into the expertise of GAPNA members to provide you with their insights and tips as they have adjusted to providing care during the pandemic. Another important section of the COVID-19 Resources is the Personal Health & Wellness section. Please review these self-care resources created especially for GAPNA members.
If you haven't been on the GAPNA Exchange lately, be sure to check it out! On the Exchange you can tap into the support of your GAPNA community and access helpful information that members are sharing.
Also, you can tune-in to GAPNA social media (Facebook, LinkedIn, and Twitter) to access the latest news and information on senior care and APRN resources and practice issues.
Advocating for Care of Older Adults
Early in March, journalists sought out GAPNA to provide insights on how to optimize care for older adults. Valarie Sabol, GAPNA immediate past president and myself, were interviewed for an American Nurse article entitled "A Growing Population." Later in March, GAPNA was sought out again to provide insights on caring for older adults during the COVID crisis. Past President Michelle Moccia and I were interviewed for an article in Minority Nurse, entitled "Protecting Older Adults During the COVID-19 Outbreak." This piece was also expanded in a Washington Post article "Seniors Are the Most Vulnerable to Coronavirus. You Can Help Protect Them."
In advancing nurse practitioner education, GAPNA's Position Statement "Primary Care in Long-Term Care Sites: Long-Term Care Sites as Appropriate Clinical Placements for Primary Care Nurse Practitioner Students" (2019) was endorsed by the Commission on Collegiate Nursing Education (CCNE) and LACE member organizations in April and placed on CCNE's website. This prestigious endorsement and dissemination are a tribute to the work of GAPNA to promote NP preparation and expertise in care of long-term care residents.
In dialogue with NP faculty on April 24, I had the honor of representing GAPNA at the Annual NONPF (National Organization of Nurse Practitioner Faculties) conference (which was offered virtually) as a member of the LACE panel. The panel provided the opportunity to inform over 400 participants about GAPNA; our organizational mission, strategic plan, and initiatives; and to encourage these amazing colleagues to engage with GAPNA to support gerontological advanced practice education in their colleges and schools.
Advocating for Policies that Promote Access to APRNs and Reduce Barriers to Practice and Provide Safe Work Environments
As the COVID-19 pandemic escalated throughout the United States, the shortage of older adult primary care providers became evident. As GAPNA members know, this created an outcry to set aside decades-old regulations restricting APRN practice and barriers to care. The GAPNA Health Affairs Committee was incredibly active and responsive to the emerging policy issues, and GAPNA actively engaged in endorsing and supporting important policy advances such as signing on to letters supporting:
The CARES Act
Permission for NPs to certify and recertify home health care services
Waiver of the requirement for practice agreements
AMDA – Red Hand letter
NONPF/Coalition Position paper: APRN Practice Expansion and Clinical Practice Hour Requirement
Committed to You!
We are living in a time of disruption, there are many unanswered questions and new challenges each day, but together, we endure as a community committed to our mission:
Promoting excellence in advanced practice nursing for the well-being of older adults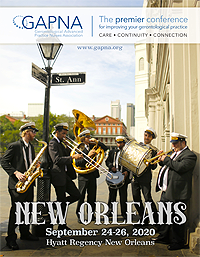 We continue our commitment to be a community of caring professionals, providing you, our membership:
High-quality and relevant continuing education
Opportunities for member engagement
Strategic collaboration with other organizations that advances full practice authority
A robust GAPNA online presence
Initiatives that increase diversity and inclusiveness
We go forward in hope, hoping to see you soon at GAPNA's 2020 Annual Conference: Celebrating the Strength of Nursing, September 24-26 in New Orleans. Online registration is now open!
On behalf of the GAPNA BOD – wishing you safety and good health!
Deborah Dunn, EdD, MSN, GNP-BC, ACNS-BC, GS-C
GAPNA President 2019-2020
ddunn@madonna.edu