Networking Highlights Chapter Activities
Texas Gulf Coast (TXGC) Chapter President Myla Magno, DNP, APRN, GNP-BC, GS-C, passed her Gerontological Specialist Certification exam during the 2019 GAPNA Annual Conference.
Kudos to you, Dr. Magno, and we look forward to more GAPNA members aiming to attain this stamp of gerontological provider certification!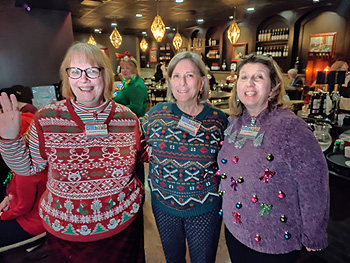 Ugly Sweater Contest Winners (l to r):
Elizabeth Godlove, Maureen Beck, Julie Grisette.
The TXGC Chapter held its well-attended NP Week Celebration Dinner Meeting in November 2019. Our colleague Lillian Flores-Perez, A/GNP, RN, CWS, presented "Palliative Wound Care" sponsored by Vantage Hospice.
Also during this meeting we initiated a new fundraising activity, "Wine Basket," to add funding for TXGC Chapter activities. The raffle for the large and sumptuous gift basket was well received and almost $200 was raised at the dinner event. The TXGC Chapter intends to make this a recurring fundraising activity for each quarterly meeting.
The Texas GCGAPNA proposed two amendments relative to membership renewals and board officers' duties were conducted during the November 2019 dinner meeting followed by an emailed survey. All respondents voted for the proposed amendments.
Our annual Christmas dinner was held in December in one of Houston's excellent Spanish restaurants. The Chapter sponsored this Christmas dinner party in honor of its dedicated and growing number of GAPNA members.
Some of the fun and exciting activities during this Christmas party was the "Ugly Sweater" contest. There were three winners with the grand prize taken by Past Presidents Elizabeth Godlove and Julie Grisette and Past Treasurer Maureen Beck.
A gift exchange made the Christmas dinner an even more sparkling event. Everyone left with a bright grin!
The TXGC Chapter intends to hold its first quarter dinner meeting in Spring 2020. Stand by for the Chapter's upcoming activities.
Visit the Texas Gulf Coast GAPNA Chapter | View the GAPNA Chapters