A Tropical Adventure Awaits at GAPNA's Pharmacology and Prescribing in Older Adults
The Hilton Hawaiian Village Waikiki Beach Resort offers a tropical backdrop for GAPNA's Pharmacology Conference, April 20-24, 2021.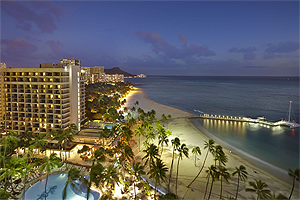 Set among a tropical landscape covering 22 acres, the resort boasts Waikiki's widest and most spectacular white sand beach as well as Waikiki's only saltwater lagoon.
Stunning natural surroundings, luxurious amenities, vibrant dining options, adventurous daily activities, and more make GAPNA's Pharmacology Conference at the Hilton Hawaiian Village a trip of a lifetime.
Ideally located in the heart of Waikiki, the hotel is 10 minutes from Pearl Harbor and 25 minutes from Honolulu International Airport. Ala Moana, the largest shopping mall in Hawaii, is just a 5-minute drive away, giving you easy access to over 340 shops, services, and entertainment.
The resort features the world-class Mandara Spa and five swimming pools, diverse dining with over 20 restaurants and bars, daily activities ranging from Hula to outdoor yoga, and Camp Penguin children's program. Local attractions include Waikiki Beach, Diamond Head, USS Arizona Memorial, Hanauma Bay, Ala Moana Mall, and Honolulu Zoo.
Catamaran trips, turtle and whale watching tours, snorkeling, kayaking, surfing, and submarine tours await right at the hotel. With over 20 resort restaurants and bars, you'll find plenty of culinary experiences waiting to delight you. Friday nights at the beach feature Waikiki's biggest fireworks display – a captivating awe-inspiring ritual.