Valeria Gruss Named AAN Edge Runner
The American Academy of Nursing (Academy) recently recognized GAPNA member Valerie Gruss, PhD, APRN, GNP-BC, FAAN, as an Edge Runner for her Dementia Guide Expert app.
The Academy's Edge Runners are nurse innovators who have charted a new course and ushered in remarkable improvement to major healthcare challenges.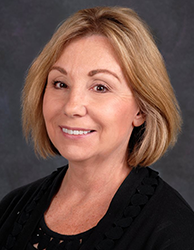 Valerie Gruss, PhD, APRN, GNP-BC, FAAN
2019 American Academy of Nursing Edge
Runner Principal Investigator, Director, and
Creator Dementia Guide Expert App
Edge Runner models of care and interventions demonstrate significant outcomes, clinically and financially, through the leadership, ingenuity, and determination of nurses.
"Dr. Gruss's Dementia Guide Expert app is an easy-to-use innovation that is drastically increasing access to care, which is especially important for diseases as personal as dementia," said Academy President Karen Cox, PhD, RN, FAAN. According to Alzheimer's Disease International, over 46 million people worldwide have dementia and that number is expected to nearly triple by 2050. And while there is a push to create dementia-friendly communities through education and awareness, dementia information and support are fragmented.
The Dementia Guide Expert app is a unique centralized resource where patients with dementia and caregivers can find evidence-based expert information on the different types, contributing factors, risks, symptoms, stages, diagnoses, tests, treatments, management, communication techniques, and various resources and support services.
"Building age-friendly health systems and dementia-friendly communities is a top national healthcare priority," said Dr. Gruss, creator of the app. "Utilizing mobile app health technology to educate and support persons with dementia and their caregivers expands our reach and enables the development of global dementia-friendly communities."
Since the app's launch in December 2017, it has been downloaded over 34,800 times across 12 countries. It has recently been translated into Spanish, "Guia Experta Sobre La Demencia," and both the English and Spanish versions are available to download for free on iOS and Android devices. View Edge Runner profiles.
Join your friends in Honolulu, Hawaii at the 2020 GAPNA Contemporary Pharmacology and Prescribing in Older Adults Conference on April 14-18, 2020.

Learn more and register today!