GAPNA Exchange: A New Online Community for Members to Connect, Communicate, and Collaborate!
GAPNA Exchange is a private, secure community for members to share ideas, ask questions, lend expertise, and network with peers. The community will feature both an Open Forum discussion area along with smaller, segmented communities. Now, you can interact with GAPNA members wherever and whenever you need to.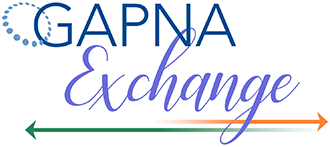 How Can I Participate?
- Log in and update your bio and profile picture.
- Make a post in the Open Forum!
Here's a quick overview of some of the features within GAPNA Exchange:
Enhanced discussion capabilities. You'll receive emails that are more structured and easier to read than a traditional listserv. All discussions are archived and searchable!
Member Directory search. Find members easily.
Total privacy controls. Maintain complete control over what information you share with members of the community and your contacts.
Subscription management. Manage your subscriptions to all discussions.
What We're Excited About
The GAPNA Open Forum (part of GAPNA Exchange) is a discussion group that is not specific to specialty but designed to help you connect with all of your peers. We hope that through the use of the Open Forum you'll feel a sense of belonging. We want this online community to foster camaraderie and support; we want you to connect, share, and communicate with colleagues who understand what it's like to be caring for our aging population.
All members will receive the GAPNA Open Forum Daily digest in their email inbox each morning (if there has been active discussion the day before). We hope you'll love hearing what your gerontological nurse colleagues (almost 2,500 of them) are saying and that you'll participate in the conversation. However, if you want to opt out* of the Open Forum daily digest, you can do so.
*If you want to opt-out of our Open Forum digest, you can do so (but we hope you don't). Just log in to GAPNA Exchange and access your profile. Then, click on My Account, Community Notifications, and select "No Email" next to Open Forum.
Join your friends at the 2019 GAPNA Annual Conference, October 3-5, 2019, in Las Vegas, NV.

Register today!