Embracing Technology and Teaching Innovations in Advanced Practice Gerontological Nursing Education
By Laurie Kennedy-Malone, Natalie R. Baker, Tracey Chan, Elizabeth M. Long, Sara McCumber
With the rapid explosion of technological advances designed for innovative teaching coupled with the transition of advanced practice nursing programs to be fully online or offer blended course delivery, nursing faculty are often seeking opportunities to enhance the ability to creatively promote active learning (Foronda et al., 2017; Oermann, 2015).
At the same time, faculty often face constraints of adopting best practices for course delivery, legal restraints of use of university- approved policies (click wrap agreements), and changing learning management systems.
In response to the growing number of nursing faculty who are members of GAPNA, the Education Committee this year is offering a 2-hour session on October 5, 2019 at the GAPNA Annual Conference in Las Vegas to showcase innovative teaching strategies using advances in technology.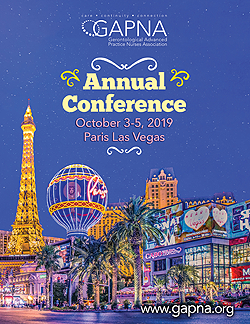 Highlighted below are some exemplars of creative teaching strategies that will be presented at the session.
Gaging Student's Participation in the Classroom
Engaging students in the classroom and online can be a challenge. A strategy that has been used in the classroom is immediate feedback assessment testing (IF-AT).
It can be utilized as a testing strategy in a variety of ways. Faculty can use this strategy to assure preparation for class. Students receive quiz questions and an IF-AT card which is a scratch-off answer sheet. Students answer each quiz question by scratching off what they believe to be the correct answer. If they are correct, a star will be in the square. If they are incorrect, they have additional opportunities to answer again.
This strategy provides students with immediate feedback on what is the correct answer to the question. Another strategy is utilizing plickers while lecturing. This is similar to clickers but instead students are given cards with QR codes on them and they hold them up in a certain direction to reflect what they believe to be the correct answer to the posed question. Faculty the scan the cards with a phone or other electronic camera device to determine results.
This strategy allows testing of understanding of material while lecturing and provides an active learning opportunity for the student. Both strategies would work well in any size classroom. Finally, faculty may want to consider a gaming platform to use in the classroom. Kaizen is one such gaming platform that allows students to read a short clinical scenario and select the correct answer in a matter of seconds.
The student receives immediate feedback and earns points and badges for friendly competition among classmates.
Creating Interactive Videos for Student Engagement
A creative strategy being adopted in education is the use of software that allows for interactive videos. One option is using Kaltura, a digital platform that allows quiz questions to be embedded within a video.
Faculty record lectures and insert questions throughout their presentations. Students receive immediate feedback and are not allowed to proceed until each question is answered. Students enjoy these low-stakes evaluations that allow them to identify areas of weakness before taking major exams.
Another option is Arc, a video learning program that allows, for example, creation of an interactive discussion board using an existing video; faculty can insert questions throughout the video for students to respond. Access to all students' responses are displayed.
Students can share their thoughts about the video's content whether in the classroom or as part of a discussion board in the learning management system. Another open-source content collaboration framework which is based on JavaScript is the program H5P. H5P, the abbreviation for HTML5 Package, allows the ability to share and reuse interactive HTML5 content such as videos and presentations.
All three programs can be used in formative evaluation of student learning.
Creative Use of Apps in Online Courses
While students often rely on the use of mobile apps in clinical practice, faculty teaching an online class may want to consider the use of a mobile application to enhance interactive learning.
Teaching advanced pharmacology online presents a unique challenge to deliver content in a meaningful way that facilitates student interaction (Long, 2018). Utilizing a mobile pharmacology application into an online advanced pharmacology course provides opportunities for students to access the latest evidence-based information and apply pharmacological principles.
Faculty will share the information on the mobile application and discuss advantages and disadvantages of its use.
Additional examples of pedagogical approaches to adopting technologies that will be shared at the conference include creative use of augmented reality, virtual simulation, gaming, digital clinical simulation, distance interprofessional simulation.
Participants will be encouraged to identify technologies that could be used in their advanced practice nursing curriculum. A worksheet will be provided to attendees to help strategize the mapping of technological innovations across their curriculum.
Make plans to attend this informative workshop at the GAPNA 2019 Annual Conference, October 3-5, 2019 in Las Vegas.
Laurie Kennedy-Malone, PhD, GNP-BC, FAANP, FGSA
Chair, GAPNA Education Committee
clbmalone@northstate.net
Natalie R. Baker, DNP, GNP-BC, ANP-BC, GS-C, FAANP
Nrbaker8590@yahoom.com
Tracey Chan, PhD(c), ANP-BC
Elizabeth M. Long, DNP, APRN, GNP-BC, CNS
BUBear86@gt.rr.com
Sara McCumber, DNP, APRN, AGPCNP, CNP, CNS
smccumbe@css.edu
---
References
(1), 14-17.42, Nurse EducatorForonda, C.L., Alfes, C.M., Dev, P., Kleinheksel, A.J., Nelson Jr., D.A., O'Donnell, J.M., & Samosky, J.T. (2017). Virtually nursing: Emerging technologies in nursing education.
(4), 173-175.43, Nurse EducatorLong, E.M. (2018). Incorporation of a mobile application in an online advanced pharmacology course.
Oermann, M.H. (2015). Technology and teaching innovations in nursing education: Engaging the student. Nurse Educator, 40(2), 55-56.
Join your friends at the 2019 GAPNA Annual Conference, October 3-5, 2019, in Las Vegas, NV.

Register today!