Dementia Care Specialist Program Available to GAPNA Members
By Carolyn Clevenger, Sherry Greenberg, Michelle Moccia, Jennifer Serafin
What's your super power?
GAPNA is partnering with the UCLA Alzheimer's and Dementia Care (ADC) program to provide continuing professional development in dementia care and train advanced practice nurses as Dementia Care Specialists!
In January, four GAPNA advanced practice nurses, Carolyn Clevenger, Sherry Greenberg, Michelle Moccia, and Jennifer Serafin, flew to Los Angeles to learn more about the successful UCLA ADC program and plan how GAPNA will further its reach.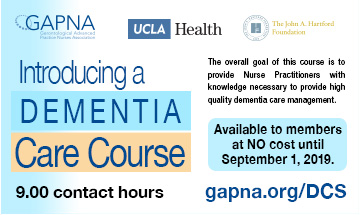 The GAPNA group met with the astronomical UCLA ADC team: Principal Investigator David Reuben, MD; Lead Dementia Care Specialist Leslie Chang Evertson, GNP-BC; and nurse practitioners Mihae Kim, AGPCNP-BC, and Michelle Panlilio, GNP-BC, who implement the ADC program, as well as Jane Carmody, DNP, MBA, RN, Program Officer at The John A. Hartford Foundation.
The goals of the UCLA ADC program are to maximize patient function, independence, and dignity while minimizing caregiver strain and unnecessary costs.
With the support of The John A. Hartford Foundation and GAPNA, the UCLA ADC program developed the Dementia Care Specialist (DCS) Curriculum.
This 22-module online curriculum provides a content base for APNs looking to advance their expertise in caring for older adults with dementia as well as their caregivers.
The goal of this curriculum is to provide APNs with knowledge necessary to provide high-quality dementia care management. GAPNA, the premier provider of continuing professional development for APNs caring for older adults, is housing the DCS curriculum in the GAPNA Online Library!
The Dementia Care Specialist (DCS) Curriculum is available for 9 contact hours and free to GAPNA members until September 1, 2019.
What happens in Vegas? Dementia Care Specialist Clinical Skills Training!
GAPNA is excited to announce the first Dementia Care Specialist Skills Training workshop. The session will be offered as a Pre-Conference Workshop during GAPNA's 37th Annual Conference in Las Vegas on Wednesday, October 2, 2019. We hope you join us!
Carolyn Clevenger, DNP, GNP-BC, FAANP
ccleven@emory.edu
Sherry Greenberg, PhD, RN, GNP-BC, FGSA
sherry@familygreenberg.com
Michelle Moccia, DNP, ANP-BC, CCRN, GS-C
Michelle.moccia@stjoeshealth.org
Jennifer Serafin, MSN, BSN, GNP-C, GS-C
serafinjen@gmailcom
Join your friends at the 2019 GAPNA Annual Conference, October 3-5, 2019, in Las Vegas, NV.

Register today!