Stay Focused
By Valerie K. Sabol
"It's not the mountains ahead to climb that wear you out, it's the pebble in your shoe."
– Muhammad Ali
This famous quote by Muhammad Ali describes the importance of perseverance. As healthcare providers to our aging population, we all know we must persevere if we are to climb that proverbial mountain and make an impact on those whom we serve. But why do we often falter, focused on that seemingly insignificant pebble in our shoe that prevents us from getting too far past the base of the mountain? To be sure, there are lots of distractions (or pebbles) that derail us from our goals…and let's be honest, they can be exhausting!
For myself, I can be easily distracted by planning for the worst-case scenario, an event that while disastrous, is also unlikely to occur. My time and energy could be better spent planning for those highly likely daily distractions that seem to occur like clockwork. How do I become less distracted?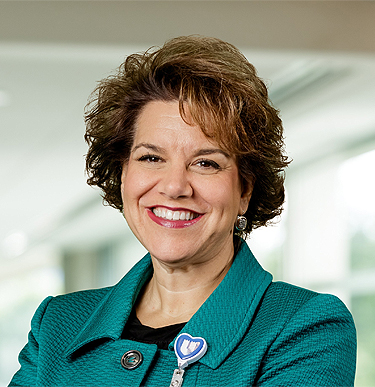 I literally block out time on my calendar for the unexpected so that I actually have time to manage these random, but expected daily distractions before they accumulate and derail my day. It does not always work as planned, but at least I have a game plan to help keep me on my path. If I am able to reach my daily goals, I know that I am now one day closer to reaching my long-term goals.
If we are to be successful healthcare providers – to reach the top of that mountain – we must plan better for whatever distracts us. Your distractors (or pebbles) may be very different from mine, and solutions that work one day may not work the next day. Either way, staying focused and planning your approach to address those distractors is key to saving time and energy for the things that truly matter. Our aging patients/clients and their families benefit from your efficiency.
Just remember that to get where you need to go, you sometimes have to stop and spend a little time along the side of the path shaking pebbles out of your shoes.
Pharmacology Conference Recap
GAPNA's 5th Annual Contemporary Pharmacology & Prescribing in Older Adults Conference in Chicago, IL, was outstanding with 346 attendees!
The Planning Committee, Chicagoland Chapter, speakers, exhibitors, and site selection at the famous Hilton Chicago were all instrumental in the conference's success. The presentations were informational and sparked conversation about challenging, real-life prescribing (and de-prescribing) issues and situations.
Bookending the conference were free continuing education contact hours sponsored by the Nurse Practitioner Healthcare Foundation, where attendees had the opportunity to learn more about general pain management, opioid benefits and risks, and specific care recommendations for osteoarthritis and chronic low-back pain.
Behind the scenes, your GAPNA Board of Directors (login required to view) met prior to the conference to brainstorm, deliberate, and set goals for GAPNA's future.
In addition, every year GAPNA selects an organization to help the local community of elders in need; this year, GAPNA Gives Back selected Little Brothers - Friends of the Elderly and almost $400 (thru gift cards and donations) was raised and donated.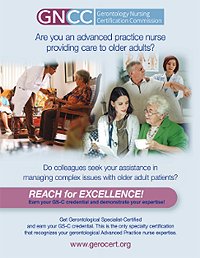 Finally, following the conference, several attendees registered and sat for the Gerontological Specialist Certification (GS-C) Exam, the only specialty certification that recognizes gerontological expertise among APRNs. If successful, they will be among a growing group of APRNs to earn the GS-C credential.
If you have not already taken this specialty certification exam, please mark this on your to-do list – there is strength in numbers!
New Partnership with UnitedHealth Group
Earlier this year, GAPNA leaders were invited to a meeting at 701i of UnitedHealth Group (UHG), their innovation center in Washington, DC, with the goal to discuss possible collaborative partnerships that would benefit our aging population and workforce. The meeting was nothing short of visionary!
GAPNA and UHG leaders found several areas of mutual interest and we look forward to our future work together: identifying and addressing aging population needs, strengthening the national geriatric-focused workforce, educating legislators and regulators on the importance of geriatric-focused education to new and existing nurse practitioners, and addressing the shortage of NP faculty who lack geriatric expertise. On the horizon, GAPNA also looks forward to helping disseminate the results of United Health Foundation's America's Health Rankingsâ Senior Report 2019, a report that reflects how determinants of health (behaviors, community and environment, policy, and clinical care) directly influence health outcomes.
The GAPNA Exchange was launched earlier this year as an online community designed to help you connect, communicate, and collaborate with your gerontology-focused colleagues. There are several communities to connect with, and you may find yourself gravitating toward an existing Committee or Special Interest Group! As long as you are a GAPNA Member, you can participate: read a post, write a post – start exchanging!
Important Reminders
Elections for GAPNA Board (Meet the Candidates) – Every Vote Counts! Due May 31, 2019. Please remember to vote in the May 2019 Elections. The election runs from May 6 - May 31, 2019.
GAPNA Excellence Awards - Due June 1, 2019. Don't forget to nominate a colleague (or yourself) for a GAPNA Excellence Award!
Dementia Care Specialist Modules (9.0 Contact Hours) - Free until September 1, 2019.Co-sponsored by GAPNA and The John A. Hartford Foundation, UCLA Alzheimer's and Dementia Care Program developed the Dementia Care Specialist (DCS) Curriculum. The Dementia Care Specialist (DCS) Curriculum contains 22 modules that provide basic knowledge for APRNs who are looking to advance their expertise in caring for individuals with dementia. The Dementia Care Specialist (DCS) Curriculum is currently available for free to GAPNA members until September 1, 2019. After this date, there will be a $39.00 fee for GAPNA members and $59.00 for non-members. See gapna.org/DCS for more information.
Get-a-Member Challenge - Strive for Five! Beginning May 2019 until December 2019, if you recruit five new members to GAPNA, you will receive a Free 1-year membership. Each month, GAPNA will also hold a drawing and reward one recruiter (an individual who recruited a new member) a chance to win free CNE from the GAPNA Online Library. And, if you recruit more than five members, you will be entered into a drawing to win a Free conference registration!
Mark your Calendars!
Congratulations to Members on the Move!
A special acknowledgment and congratulations to GAPNA Members on the Move who will be inducted as Fellows of the American Association of Nurse Practitioners (FAANP) for 2019: Sherry Greenberg, PhD, RN, GNP-BC; Angela Richard-Eaglin, DNP, MSN, FNP-BC, CNE; Michele H. Talley, PhD, ACNP-BC. We are so proud of you and your accomplishments!
Valerie K. Sabol, PhD, ACNP, GNP, ANEF, FAANP, FAAN
President (2018-2019)
valerie.sabol@duke.edu
Join your friends at the 2019 GAPNA Annual Conference, October 3-5, 2019, in Las Vegas, NV.

Register today!