Acute and Emergent Care Series Planned for GAPNA Conference
By Michele Talley
The Acute and Emergent Care Special Interest Group (SIG) has a very engaged, active membership.
Participation is consistent and delightsits members through a variety of activities focused on advancing care of the older adult with acute and/or emergent care needs!
SIG members worked to launch the first-ever acute and emergent care series for the 2019 GAPNA Annual Conference in Las Vegas, NV. Several presentations are planned including: difficult to management pulmonary conditions, care of the aging transplant patient, best practices to prevent geriatric decline, care of the older adult perioperative patient, trauma management (e.g., falls), and diabetes management in the older adult.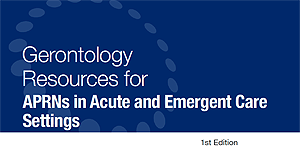 Members of the Acute and Emergent Care SIG are in the process of sharing the first edition of the Gerontology Resources for APRNs in Acute and Emergent Care Settings with the deans and directors of various Adult-Gero Acute Care specialty tracks across the nation.
In addition, SIG members are planning to update this resource guide; new and expanded topics are being explored and we welcome new co-authors!
Please join our friendly, active group in caring for the acute and emergent care needs for older adults and educators! It's easier than ever to sign up. Complete the Committee/SIG Commitment to Serve Form online!
Michele Talley, PhD, ACNP-BC
talleym@uab.edu
Join your friends at the 2019 GAPNA Annual Conference, October 3-5, 2019, in Las Vegas, NV.

Register today!