Transforming the Alzheimer's Experience with a Mobile App: Dementia Guide Expert
By Valerie Gruss
In 2017, an estimated 5.4 million Americans aged 65 and older had Alzheimer's disease (AD). By 2050, the prevalence may triple.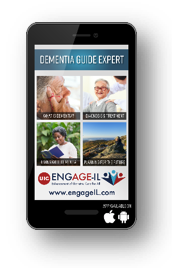 Though most Americans live without dementia, they often feel uninformed and fearful of the disease. About 75% of adults report not being knowledgeable about AD and 44% of Americans fear AD more than any other disease, including cancer.
There is an important need for dementia education of all older adults, families, and the general public.
To address this challenge and educate the public about dementia, HRSA created the Geriatrics Workforce Enhancement Program (GWEP) grants. GAPNA member, Valerie Gruss, is PI on a GWEP award. Her program, Engage-IL (engageil.com), involves multiple innovative projects including development of a free mobile app, Dementia Guide Expert.
There are hundreds of apps available to help those diagnosed with AD. What was lacking was an evidence-based app created by geriatric experts. Unlike current apps that mostly relate to those already diagnosed, including "memory games," etc., Dr. Gruss' Dementia Guide Expert app provides expert information on what dementia is, types, contributing factors, risks, symptoms, stages, diagnosis, tests, treatment, management, communication techniques, and links to resources and support services.
The free app is available for iOS at Apple iTunes and Apple App store and for Android devices at Google Play. Since the launch of the Dementia Guide Expert app in January 2017, it has been downloaded/viewed over 19,800 times in 10 different countries. Most recently the app has been translated into Spanish (Guia Experta Sobre LaDemencia) and is available for free download.
Valeria Gruss, PhD, APN, CNP-BC
vgruss@uic.edu
Join your friends at the 2019 Contemporary Pharmacology and Prescribing in Older Adults Conference, March 28-30, 2019, in Chicago, IL.

Register today!