America's Health Rankings Report Dedicated to Veterans
By Susan Mullaney
Nearly 23 million Americans living today have served on active duty in the U.S. Armed Forces; 2.4 million of whom are currently on active duty or in the National Guard and Reserves, and more than 20 million retired.
As those who have served age, the burden of chronic disease will continue to grow, especially among aging baby boomers who served in the Vietnam and Korean Wars.
The health and well-being of those who have served continue to be a national priority. How many Veterans do you have in your practice? The latest report provides data at the population level for the health of Veterans.
The United Health Foundation recently released the latest America's Health Rankings report: Health of Those Who Have Served Report.
This report was created in partnership with the Military Officers Association of America, leverages six years of data and is the only available national resource to provide comprehensive population-based insights into the health of those who have served in the military.
Some key findings include:
Despite reporting better overall health, Veterans face higher rates of chronic disease and report higher rates of unhealthy behaviors than civilians.
Rates of depression, anxiety, and frequent mental distress are also higher among Veterans.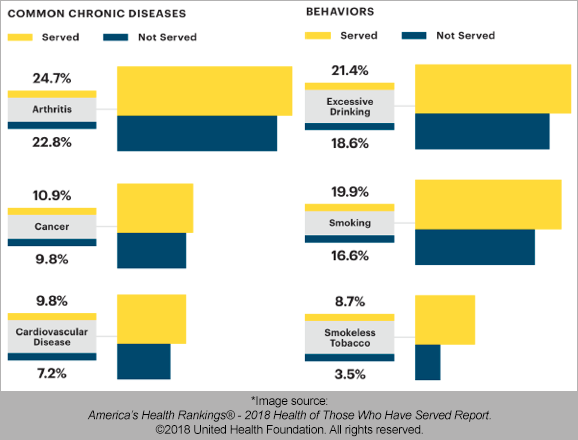 This report serves as a national resource to monitor trends over time and identify key areas of concern and opportunities for improvement. What role do you play in engaging other key stakeholders – policymakers, health officials, and community leaders – to drive action to improve the lives of Veterans? Are there opportunities for GAPNA?
Please feel free to share your thoughts at gapna@gapna.org.
Susan Mullaney, DNP, APRN, GNP-BC, GS-C
Chairperson
Susan_e_mullaney@uhg.com
Join your friends at the 2019 Contemporary Pharmacology and Prescribing in Older Adults Conference, March 28-30, 2019, in Chicago, IL.

Register today!