Time to Hit the 'Refresh' Button on New Year's Resolutions: Got GAPNA?
by Valerie K. Sabol
As we progress through 2019, I ask each of you to hit the "refresh" button on resolutions because I know that by the time you read this, it will be February!
While you may continue to adhere to your 2019 New Year's resolution to follow a ketogenic diet, perform cardio and strength training (per CDC recommendations, of course), or simply floss your teeth every day, I am asking for an additional resolution to add to your plate: personally engage in "spreading the word" about GAPNA as your professional home.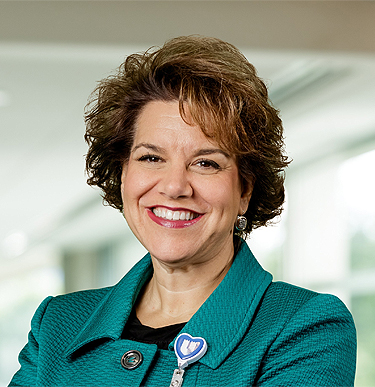 As a membership organization, GAPNA's mission is to promote excellence in advanced practice nursing for the well-being of older adults. Our vision for the future is to be trusted leaders for the expert care of older adults. Yet, despite many of our successful national initiatives and collaborative partnerships, I am always surprised to meet advanced practice registered nurse (APRN) students, practicing clinicians/preceptors, researchers, and academicians who have never heard of GAPNA, particularly after the merging of our educational programs to Adult-Gerontology Primary and Acute Care Programs.
I have mistakenly assumed that the merging of these population foci would make GAPNA a household name, essential to education, practice, research, policy, and service initiatives across the nation. However, after traveling, presenting, answering questions, and handing out hundreds of GAPNA business cards, I have come to realize through honest self-reflection that I had a very special and privileged "environmental exposure" to GAPNA while working at the University of Maryland School of Nursing.
My gerontology/geriatric mentors were not only long-term GAPNA members, they were also GAPNA Presidents: Barbara Resnick (2002), Beth Galik (2011), and Marianne Shaughnessy (2012). Essentially, there was no way that I could have walked down my hallway and claimed ignorance about GAPNA, its opportunities, and its wealth of resources/connections among its thousands of dedicated, gerontology/geriatric expert members. [View Past Board of Directors and Founders.]
I am sure that each of you can think back to someone in your career who made a difference, who mentored you, and who seemed genuinely interested in you and your career path. For many, however, that may not be the case. So, now when I meet folks who have never heard of GAPNA, my new thoughts are, "Wow, I was pretty lucky to get such important exposure early in my NP career by people who genuinely cared, encouraged me, and helped me to set stretch goals. How can I share my luck and get the word out about GAPNA to as many people as possible?"
So, in tribute to my mentors (Barb, Beth, and Marianne) and to pay my luck forward, I am asking each of you, as GAPNA card-carrying members, to refresh and make a new resolution in February that is easy to do!
Please think about your colleagues and friends who teach, mentor, perform research/quality improvement initiatives, and/or provide direct care to our aging population, and simply ascertain that they do indeed know about GAPNA and all that the organization offers to its members (Got GAPNA?). If they do not know about GAPNA, make a personal connection with them about the organization, answer their questions, connect them to other members, and refer them to the benefits of GAPNA membership (conferences, online courses, toolkits, clinical guides, journal access, the GAPNA Newsletter etc.).
Ask if GAPNA student membership (40% discounted rate) and online resources are a part of their curriculum, and if students are encouraged to submit abstracts and/or attend the conferences.
Simply put, we cannot assume (as I have done) that everyone knows about GAPNA. In our current healthcare climate, it is more important than ever to remain engaged, and that includes spreading the word through purposeful and personal connections. If anything, we owe it to the next generation of APRNs and the aging population we serve.
Upcoming GAPNA Event Reminders – Mark your Calendars!
If you have not already done so, be sure to mark your calendars and get your travel plans together for the 5th Annual Contemporary Pharmacology & Prescribing in Older Adults in Chicago (March 28-30, 2019). The Board of Directors and I are looking forward to another pharmacology-intensive event, filled with learning and networking with colleagues and friends from across the nation.
In addition, good luck to those conference participants who registered to take the APRN Gerontology Specialist Certification Exam (GS-C) while at the conference! If you missed the registration deadline to take it while at the conference, remember that you can always submit an application to take it at a computer-based testing center near your home.
The certification application booklet is available to view/download or you can call C-NET for details (800-463-0786). If you cannot join us at the pharmacology conference in March, remember all sessions will be available for continuing education credit in the GAPNA Online Library after the conference is complete, and then year round!
While in Chicago, GAPNA invites conference participants to donate Target, Staples, or Dunkin Donuts gift cards to Little Brothers – Friends of the Elderly, Chicago Chapter.
Part of a larger, national network of non-profit volunteer-based organizations, Little Brothers is committed to relieving isolation and loneliness among the elderly. Their motto is "Flowers before Bread" which underscores their philosophy that people need the special pleasures in life, in addition to the necessities. We hope you will join us – gift cards are easy to pack, and every donation matters!
While your calendars are out, do not forget to mark them for the 37th GAPNA Annual Conference in Las Vegas (October 2-5, 2019). Although it may seem a few seasons away, it is important to block out time for these important (and fun!) learning opportunities. Be on the lookout for session highlights, conference and GAPNA Foundation events, and member merriment posted on the GAPNA conference app, newsletter, and social media. We hope to see you in Vegas!
Your Professional Home
In summary, the challenges in health care in our near and distant future will require passionate and well-prepared APRNs to lead the expert care of our aging population. My vision for GAPNA in 2019 is that all APRNs who care for older adults in any setting will recognize GAPNA as their professional home.
On behalf of the GAPNA Board of Directors, I wish each of you a happy and healthy 2019, and hope that you will help me spread the word about GAPNA, our professional home.
Valerie K. Sabol, PhD, ACNP, GNP, ANEF, FAANP, FAAN
President
valerie.sabol@duke.edu
@ProfSabol
Join your friends at the 2019 Contemporary Pharmacology and Prescribing in Older Adults Conference, March 28-30, 2019, in Chicago, IL.

Register today!