The Town So Nice They Named it Twice
Chicago, Chicago, that toddlin' town
Chicago, Chicago, I will show you around
GAPNA's Contemporary Pharmacology & Prescribing in Older Adults blows into the Windy City March 28-30, 2019. There is a little something for everyone in the city that feels like home.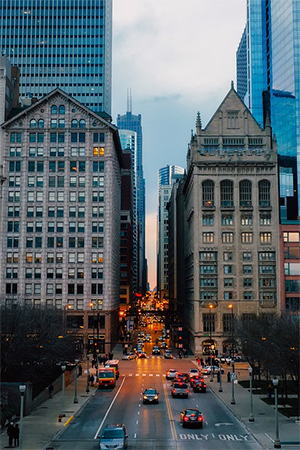 You can visit world-class museums, dine at one of many Michelin-star restaurants, or catch a show in one of over 200 theaters. No matter what you love to do, you'll feel right at home doing it here.
Chicago Is Home To...
237 square miles of land
An estimated 2.7 million residents
77 community areas containing more than 100 neighborhoods
Over 5,195 restaurants
More than 250 theaters, 225 music venues, and 200 dance companies
56 museums
Over 700 public art works
More than 125 art galleries and 20 neighborhood art centers
26 miles of lakefront with an 18.5-mile lakefront path
8,100 acres of green space with 580 parks and 26 beaches
5 citywide music festivals, nearly 50 neighborhood music festivals, and 35 neighborhood food festivals
Over 30 downtown and neighborhood parades
Approximately 369 landmarks and 46 historic districts
Over 225 miles of bike lanes and more than 13,000 bike racks
Over 3,000 bikes and 300 stations through a bike-sharing system
28 bus routes and 8 train routes serving 146 stations
...and the Chicago Transit Authority (which is also the classic 70's band)
Start planning your trip to Chicago with this must-have guide that covers the city's best attractions and sightseeing. Find event calendars and itineraries to restaurant spotlights and shopping tips, and much more!
Bet your bottom dollar you'll lose the blues
In Chicago, Chicago
Join your friends at the 2019 Contemporary Pharmacology and Prescribing in Older Adults Conference, March 28-30, 2019, in Chicago, IL.

Register today!