GAPNA Research/Project Consults Available
Finishing up your doctorate? Working on an evidence-based project? Having difficulty submitting your research proposal? Not sure how to go about your first research project? Need to speak about your project with someone with experience in research?
GAPNA recognizes your needs and wants to help.
The Research Committee will provide free consultations and one-on-one guidance at the 2019 GAPNA Annual Conference, October 3-5 in Las Vegas. Please send an email to GAPNA@gapna.com and provide your name, email contact, and a brief description of the research/project issue you would like to discuss.
You will be contacted to set up a time to meet at the Annual Conference with a committee member who has experience in your research area. The meeting will be scheduled during Exhibit Hall or lunch-on-your-own time.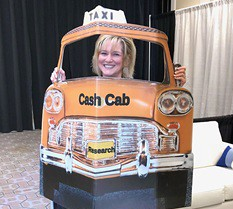 GAPNA Research Committee members will have a booth in the Exhibit Hall where your consultation can take place. We're reaching out to you; tell us how we can help you with your research/clinical project!
Cash Cab
Research Committee members will parade around the exhibit hall with our famous Cash Cab during GAPNA's Annual Conference. Join the Research Committee for this exciting fun activity.
Do you want to know how to tweet? Ask us at the Research Committee booth or attend our "Professional Brand: Using the Nuts and Bolts of Social Media" concurrent session on Thursday, October 3, 2019.
Join your friends at the 2019 GAPNA Annual Conference, October 3-5, 2019, in Las Vegas, NV.

Register today!