Kathleen Fletcher, DNP, RN, GNP-BC, FAAN - Farewell Valliant Warrior
by Cynthia Gerstenlauer
Kathleen Ryan Fletcher graduated from the University of Massachusetts at Lowell in 1982 as a gerontological nurse practitioner.
For over 20 years Kathy was employed at the University of Virginia School of Nursing as a Clinical Assistant Professor of Nursing. In 2013 she was recruited by Riverside Health System in Newport News, VA, to establish an ACE unit at the Riverside Regional Medical Center. She later worked at the Riverside Center for Excellence in Aging and Lifelong Health where she continued to maintain a hands-on role, working as a clinician, educator, and researcher in gerontology.
Kathy had a passion and commitment to improving the care of older adults and the knowledge and skills of the geriatric workforce. She served as a co-author of a number of prestigious publications including Advanced Practice Nursing in the Care of Older Adults (1st edition) published in 2014. This book received an AJN Book of the Year Award for Gerontological Nursing. Kathy demonstrated a passion for geriatric education and was in demand as a speaker nationally and at the state and local levels.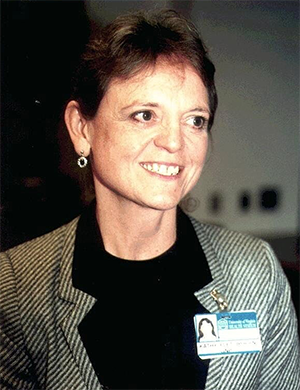 She was renowned for her expertise in delirium, dementia, and depression. Kathy was also the recipient of the Nancy Vance Award for Clinical Excellence in 2001 by the Virginia Nurses Association. She was inducted as a Fellow in the American Academy of Nursing in 2002.
Kathy was an active GAPNA member for almost 30 years. She was the Conference Planning Chair for the 1993-94 NCGNP Williamsburg conference. She served as Treasurer in 1994, President-elect in 1995, and then President of NCGNP in 1996. Kathy was a member of the GAPNA Historical Committee from 1997 to 2019, serving as Co-Chair from 2004-2016. Kathy spearheaded the effort to archive GAPNA's history.
She, along with Virginia Lee Cora and Trudy Keltz, reviewed GAPNA materials collected over 30 years, solicited members for additional materials, and researched what was appropriate for archiving. In 2013 they published a monograph on GAPNA's 30-year history called "The Evolution of the GNP and Gerontological Advanced Practice Nurses Association, 1981-2011."
On April 16, 2014, Kathy presented four banker's boxes of GAPNA's history to the University of Virginia for the School of Nursing's Eleanor Crowder Bjoring Center for Nursing Historical Inquiry. Kathy, Virginia, and Trudy completed an "Addendum for the 35th Anniversary for the Gerontological Advanced Practice Nurses Association 2011-2016," which is now available on the GAPNA website along with the original monograph.
Kathy's contributions to GAPNA and gerontological nursing have been profound and sustaining. Kathy received the David Butler Spirit of Caring award, GAPNA's highest award, in 2017. In 2018 Kathy was recognized by the University of Massachusetts at the Lowell Solomont School of Nursing 50th Anniversary as one of the top 50 honorees.
Kathy was a remarkable person and she will be missed personally and professionally. Her husband Steve shared that Kathy passed peacefully in her sleep on June 13, 2019, at the age of 68. Steve and their son Ian were at her side, as she would have wanted. Kathy had been struggling for a long time with a relentless illness, and it was a relief for her and all those who loved her that her suffering was over. Steve went on to say, "As you all know, her life was wholly given over to service for others, and that is how I know she would want to be remembered. Please do not send flowers or any other gifts but do donate to charity in her name if you are so moved." Kathy was very proud that her son Ian became a nurse.
In Kathy's memory, the Historical Committee is proposing a Kathy Fletcher Memorial GAPNA Archives to the Board. GAPNA already has a Historical Committee Fund and it is part of the membership renewal process. Any funds collected are earmarked for the Historical Committee archiving initiative. We are proposing a name change for the fund. We are also looking into honoring Kathy in some way at the archiving center.
If you would like to contribute to the archiving fund in Kathy's name, you can send a check to the GAPNA National Office with a note on the memo line to that effect. Members of the Historical Committee have committed to give $100 each to the fund. The Great Lakes Chapter plans to donate to this fund in Kathy's memory. Perhaps your chapter would like to donate, too? Kathy was well-respected at UVA and some of her co-workers will be making donations to this fund in her honor. Kathy's husband Steve will receive ongoing letters from GAPNA recognizing the contributions in Kathy's name.
Cynthia Gerstenlauer, ANP-BC, GNCS-BC, CDE, CCD
cgerstenlauer@comcast.net
Join your friends at the 2019 GAPNA Annual Conference, October 3-5, 2019, in Las Vegas, NV.

Register today!