A Growing Partnership with United Health Foundation
By Valerie K. Sabol
"Alone we can do so little; together we can do so much."
– Helen Keller
As a new partner with the United Health Foundation®, GAPNA is poised and prepared to help address the findings from their 2019 America's Health Rankings® Senior Report.
This data-driven report, which includes measures of the community and environment, health-related behaviors, policies, clinical care, and health outcomes, will help us strategize optimal care delivery and reduce avoidable healthcare costs.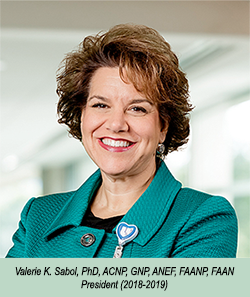 Some of the positive key findings include the increased availability of personal care aides and use of a variety of health services like home health care, hospice care, and the Supplemental Nutrition Assistance Program (SNAP). Identified challenges include increased rates of obesity, depression, risk of social isolation, and reporting of frequent mental distress.
With the diminishing numbers of primary care providers, access to care for seniors is another area of deep concern. Healthcare providers should be familiar with the report's state-level and national trends so they can better anticipate and deliver the care that is needed.
GAPNA's advanced practice nurses are ready to ensure older adults have the right care, at the right time, and in the right setting. As clinical experts, we see the daily challenges and struggles our seniors face in managing their health or that of a family member. We know many seniors delay or avoid care due to cost, potentially worsening a condition that could have been more easily treated if they had been seen by a healthcare provider at an earlier stage.
GAPNA members, and other geriatric-focused healthcare providers, implement best practices to promote healthy lifestyles, manage chronic and acute health conditions, and help America's seniors receive attainable, holistic, and affordable care. With all that said, we must not forget that we are important front-line providers who serve as resources for our local, state, and national public health leaders and policymakers. Put simply, we know what is working…and what is not working.
To be more proactive, provide age-friendly care to individuals and their families, and build healthier communities, I encourage every GAPNA member, healthcare provider, policymaker, public health leader, and citizen in America to read this report. While there is a lot of good news and positive trends, we have important work to address, such as managing a variety of chronic medical conditions and associated disabilities, depression, and caregiving support.
Thanks to our new partnership with the United Health Foundation, we know that together we can do so much!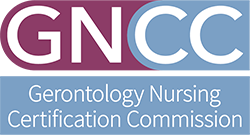 Gerontological Specialist Certification (GS-C) Exam
Study guide materials will soon be available to help you prepare for the certification exam! Testing for the certification exam will take place at the Annual Conference in Las Vegas on Saturday, October 5, 2019, at 8:00 a.m.
Remember, this is the only specialty certification that recognizes gerontological expertise among APRNs. If successful, you will be among a growing group of APRNs to earn the GS-C credential.
Read more about certification information for the GS-C exam, including applications and sample questions.
Position Statements
There are two important position statements available on the GAPNA Website:
Primary Care in Long-Term Care Sites: Long-Term Care Sites as Appropriate Clinical Placements for Primary Care Nurse Practitioner Students

Brief Summary: This document supports the use of long-term care clinical sites as important and appropriate primary care practicum placements/rotations for family nurse practitioner and adult-gerontology primary care nurse practitioner students. Long-term care settings include assisted living facilities, nursing homes, and skilled nursing facilities. As you likely know, primary care is an individual's main source of regular medical and overall health care, and includes health promotion, disease prevention, health maintenance, counseling, education, and diagnosis and management of acute and chronic conditions. As NPs help meet the rapidly growing needs of providing care in all care settings, GAPNA views long-term care settings as expanded clinical opportunities for family and adult-gerontology NP students to gain primary care clinical knowledge, experience, and skill acquisition.

Geropsychiatric Nursing

Brief Summary: This document supports geropsychiatric nursing as a subspecialty for advanced practice nurses and advocates for the integration of geropsychiatric nursing competencies as a priority for the education and preparation of the next generation of advanced practice nurses to meet workforce needs. Additionally, this document endorses geropsychiatric portfolio development, graduate course offerings, post-graduate residencies or fellowships, a national certification examination, and removal of practice barriers that impede the delivery of holistic care and the well-being of an aging population with mental health disorders.
Annual Conference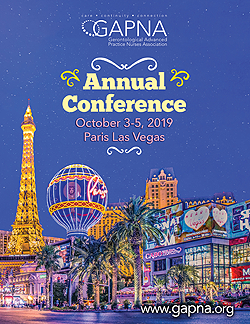 We look forward to seeing you in Las Vegas, NV, for GAPNA's 38th Annual Conference. The Planning Committee has worked hard to bring together an amazing educational and networking experience! Importantly, we heard your feedback about wanting more acute care/emergent care topics.
So, for the first time, GAPNA will be presenting to its members an Acute Care Track, with clinical experts presenting six different acute/emergent care topics throughout the 3-day conference.
These acute care sessions are highlighted on the schedule as "AC" in the registration brochure and include:
Best Practices to Prevent Geriatric Decline During Hospitalization
Difficult to Manage Pulmonary Conditions in the Acute Care Settings: ARDS, Interstitial Pulmonary Stenosis, and COPD
Acute Abdomen
Geriatric Surgery Verification Program: Role of the Advanced Practice Nurse
Transplantation and the Geriatric Patient: Implications for the Advanced Practice Nurse
Geriatric Trauma Management Across the Care Continuum: 'Help Me, I've Fallen.'
Also, there are five amazing Pre-Conference Workshops. We apologize for making it so hard to choose!
ICAMP: (Immunization Champions, Advocates, and Mentors Program), developed by the Gerontological Society of America) – This workshop will focus on the National Vaccine Advisory Committee Standards for Adult Immunization practice, change management techniques, group exercises to identify and solve implementation challenges, and help participants create an action plan. To help attendees implement their action plans, each attendee will receive a toolkit of resources.
Dementia Care Workshop – The workshop will focus on training advanced practice nurses as dementia care specialists (DCS), based on the UCLA Alzheimer's and Dementia Care Program Model. Methods during the session will include role-playing scenarios using evidence-based tools required to perform a comprehensive cognitive assessment.

Prior to this workshop, it is highly recommended participants review the current curriculum posted on the GAPNA Website, which houses 22 modules (9.0 Contact Hours). Until September 1, 2019, these modules are available to GAPNA members at no cost in the GAPNA Online Library.

Housecalls: APNs Navigating Challenges and Implementing Solutions – This workshop will explore the challenges and opportunities when caring for complex patients in the home. Learn from the experience of NP-driven practices, and take away new information on time efficiencies, documentation, coding, valuing your practice, payer/ACO partnerships, and community resources.
Pharmacology Part 1: Diabetes and Part 2: Antimicrobials – This workshop will discuss recommendations for diabetes management in the older adult population. The second part of the workshop will focus on the antibiotic stewardship programs to reduce potential harm to nursing home residents. Using case-based learning, participants will be able to apply new knowledge and skills.
Pain Management and Opioids: Balancing Risks and Benefits: Update 2019 – Sponsored by the Nurse Practitioner Healthcare Foundation, this workshop will discuss the nature and pathophysiology of pain, assessing pain, creating a pain treatment plan, initiating opioid therapy, managing patients on opioid analgesics, educating patients and caregivers, and understanding opioid use disorder. This workshop meets most states' requirements for opioid education and is fully compliant with the Opioid Analgesic Risk Evaluation and Mitigation Strategy (REMS) education requirement issued by the FDA in September 2018.
View / dowload the Annual Conference brochure!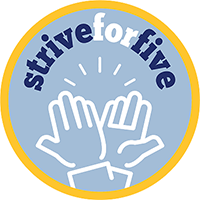 Get a Member Challenge
Strive for Five! Starting May 2019 until December 2019, if you recruit five new members to GAPNA, you will receive a FREE 1-year membership. And, if you recruit more than five members, you will be entered into a drawing to win a free conference registration!
Each month, GAPNA will also hold a drawing and reward one recruiter (an individual who recruited a new member) a chance to win free CNE from the GAPNA Online Library. Find out about it now!
Dementia Care Specialist Modules (9.0 Contact Hours)
Free until September 1, 2019; co-sponsored by GAPNA and The John A. Hartford Foundation, UCLA Alzheimer's and Dementia Care program developed the Dementia Care Specialist (DCS) Curriculum.
The DCS Curriculum contains 22-modules that provide basic knowledge for APRNs who are looking to advance their expertise in caring for individuals with dementia. The DCS Curriculum is currently available for free to GAPNA members until September 1, 2019. After this date, there will be a fee of $39 for GAPNA members and $59 for non-GAPNA members. Visit the Dementia Care Specialist Modules for more information.
Mark Your Calendars!
GAPNA Annual Conference, October 3-5, 2019, Las Vegas, NV
GAPNA Pharmacology Conference, April 14-18, 2020, Honolulu, HI
GAPNA Annual Conference, September 24-26, 2020, New Orleans, LA
Congratulations
A special acknowledgement and congratulations to GAPNA Members on the Move who will be inducted as Fellows of the American Academy of Nursing (FAAN) for 2019. We are so proud of you and your accomplishments!
Margaret T. Bowers, DNP, FNP-BC, FAANP
Kathryn M. Daniel, PhD, RN, ANP-BC, GNP-BC, GS-C, AGSF
Sherry Greenberg, PhD, RN, GNP-BC, FGSA, FAANP
Debra J. Hain, PhD, APRN, AGPCNP-BC, FAANP, FNKF
Melodee Harris, PhD, RN, APRN
In closing, I am both humbled and honored to serve as President of this amazing professional organization, which tirelessly promotes opportunities for professional development and the well-being of our aging population. I look forward to our Annual Conference in Las Vegas, where we all have the opportunity to see old friends, meet new colleagues, and share and learn from each other!
While at the conference, please seek out new opportunities – join a committee, a special interest group (SIG), or local chapter – and check out the exhibit hall and thank the vendors for their new or ongoing support. Be sure to attend our Annual Membership Meeting and Awards Luncheon where we welcome our incoming President, Dr. Debbie Dunn, and the 2019-2020 Board of Directors: Sherry Greenberg (President Elect), Jennifer Kim (Treasurer), Natalie Baker (Secretary), Sharon Bronner (Director-at-Large), and Stacey Chapman (Director-at-Large).
I would also like to take a moment to acknowledge Mr. Michael Brennan (GAPNA Executive Director), Ms. Erin Macartney (GAPNA Services Manager), and the numerous "behind the scenes" individuals at our national headquarters at Anthony J. Jannetti, Inc. for their ongoing service and support of GAPNA. With sincerest gratitude for all that you do – thank you!
Valerie K. Sabol, PhD, ACNP, GNP, ANEF, FAANP, FAAN
President (2018-2019)
valerie.sabol@duke.edu
Join your friends at the 2019 GAPNA Annual Conference, October 3-5, 2019, in Las Vegas, NV.

Register today!