National Healthcare Decision Day
by Michelle Moccia
National Healthcare Decision Day is celebrated every year in April to educate, inspire, and empower individuals to address their own personal choice for end-of-life (EOL) care.
Once again GAPNA Great Lakes Chapter (GLC) members (Holly Favero, Maria Contreras, Diane Stempek, Michelle Moccia) helped plan, facilitate, and sponsor the event with St. Mary Mercy Hospital Livonia (SMML) on Tuesday, April 16. This year we partnered with Livonia Homeland Security. This joint venture allowed us to combine the importance of emergency planning for vulnerable older adults along with discussing EOL wishes. Attendees were provided with the knowledge and tools needed to build a basic disaster emergency kit, including a conversation kit for EOL talks.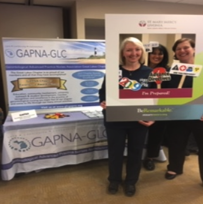 The 2-hour event began with the video "The Boat Lift" narrated by Tom Hanks. This was an incredible story of the boat rescue of individuals stranded on Manhattan Island following the 9/11 terrorist attack on the Twin Towers. The program included a reflection, emergency disaster preparedness wisdom to plan for catastrophes from Homeland Security, FEMA, "Just Do One Thing", followed by an interactive exercise around advance directives (AD). Participants received information on the importance of EOL planning.
Everyone received the Institute for Healthcare Improvement Conversation Project Conversation Starter Kit on a flash drive. This kit was developed to help people discuss what matters with them to their loved ones if they cannot speak for themselves.
Individuals rotated through stations including 911 emergency preparedness (Red Cross, Livonia Fire, Livonia Police, 911 dispatcher), basic emergency responder disaster building kit, and EOL planning that included education on completing an AD document and the importance of storing information to help prepare for what needs to be done post death.
Participants received many starter items to begin building an emergency kit that included water bottles, first aid kit, emergency blanket (GAPNA GLC donation), utensils, snacks, hand warmers, flashlights, emergency preparedness lists, emergency Just Do One Thing calendar, pet information, Auto Zone preparedness station, and other disaster supplies. Each participant received a tote bag to collect supplies embedded with an emergency checklist. Livonia City Channel also captured the event which will be aired in the near future.
A pre-survey (N=50) male 42% (n=23); female: 58% (n=32) demonstrated:
42% (n=23) had not completed an AD; 53% (n=29) completed; and 5% (n=3) answered "I don't know."
An emergency kit completed prior to the event: 15% yes (n=8); emergency kit not completed: 85% (n=46)
Post-survey (N=30):
I learned something new or helpful: 97% strongly agreed or agreed and 3% neutral
I have a better understanding of an AD: 97% strongly agreed; 3% neutral
I feel more confident completing an AD: 100% strongly agreed or agreed.
I will likely begin the process of completing an AD in the next 3-6 months: 89% strongly agreed or agreed; 11% neutral
I would sign up to complete an AD if SMML had dates and times set up*: 52% strongly agreed or agreed
I plan to do just one thing (monthly) to be prepared for an emergency: 100% strongly agreed or agreed.
I felt the flow of the evening was well thought out and planned: 100% strongly agreed or agreed.
I would attend other sessions around this subject manner: 90% strongly agreed or agreed; 10% neutral
* Based on the interest in completing an AD if dates and times were set up at the hospital, Holly and Michelle are working with hospital leadership in accomplishing this goal.
Michelle Moccia, DNP, ANP-BC, CCRN, GS-C
michelle.moccia@stjoeshealth.org
GAPNA Past President 2017-2018
Great Lakes Chapter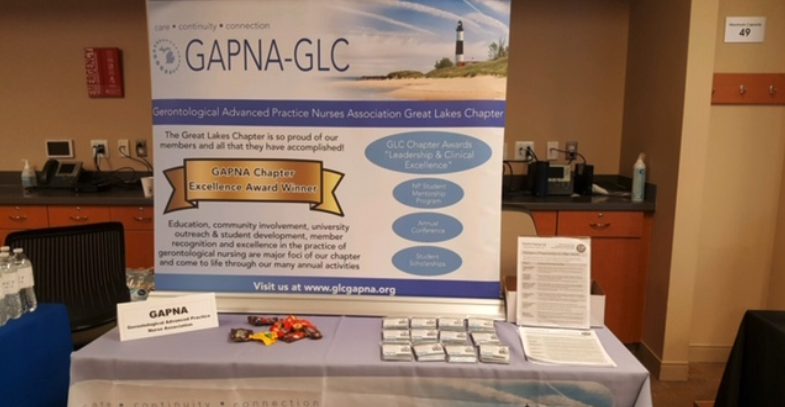 ---
Related information:
Join your friends at the 2019 GAPNA Annual Conference, October 3-5, 2019, in Las Vegas, NV.

Register today!