Meet Melissa Kramps, a GAPNA Rising Star
Melissa Kramps, DNP, GNP-BC, NP-C,is the Regional Clinical Director of the lung cancer screening program at Lenox Hill Hospital, New York, NY. "A big part of my job is patient education," said Melissa. "Both about the disease process, explaining the various tests they have to undergo, and the medications they have to take, particularly the side effects to monitor and how to manage them."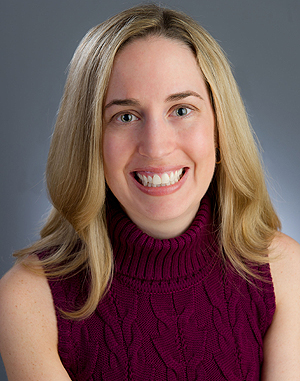 Melissa recognized the gaps in our healthcare system. Adults are living longer, but their health care needs were not being met.
"Early in my nursing care, I realized that older adults were a population who had unique healthcare needs, but they were poorly understood by the people caring for them," she said. She believes the standards, such as screening guidelines, need to be re-evaluated to address longer life expectancy. "I believe more of an emphasis will be placed on devising unique ways to care for older adults in non-acute care settings, both as a cost-reduction measure and as a way to avoid the iatrogenesis that often befalls older adults who are hospitalized."
Making Connections
To address that need, Melissa participates in community outreach by attending health fairs, and educating attendees about lung cancer screening and smoking cessation. She is currently working on a project to improve the quality of inpatient nursing assessment documentation, so it can be used to identify patients eligible for lung cancer screening and smoking cessation counseling. Currently, Melissa is working toward her goal of earning her certification as a Tobacco Treatment Specialist, but her favorite part of the job is developing lasting patient connections.
"My most meaningful interaction with a patient recently was when she said, 'Getting this diagnosis has been very difficult for me and you have been such a human being every step of the way. You have been patient, explained things in a way I can understand, and kind in all our interactions.'"
Detective Work
Melissa earned her BSN degree from Fairfield University, and MS and DNP degrees from Columbia University, where she was the student speaker at Columbia University's School of Nursing commencement ceremony when she received her DNP in 2013. "I found it fascinating that being a geriatrician is like being a detective. Along the way I found that my skills are well suited to caring for the complex medical and psychosocial challenges older adults face."
Melissa is the former program director of the Gerontological Nurse Practitioner Program at Columbia University School of Nursing where she was an Assistant Professor of Clinical Nursing. She was a primary care provider at the School of Nursing's landmark Nurse Practitioner Group Primary Care Practice, the only NP independent practice in the country to earn reimbursement equal to physicians.
Committee Comradery
Of course, it is not all work for Melissa. She loves sitting on the beach with a good book and enjoys traveling in her down time, having adventures in places such as Iceland, China, and South America.
Melissa has been a member of GAPNA for over 10 years, becoming a member when she was still a student.
With a few conferences under her belt, Melissa found comradery with the Education Committee. "The Education Committee has been a gift to me. I get to learn from accomplished educators across the country, stay abreast of what is happening in the field even when I am not teaching, and have made friends I look forward to seeing each year."
Join your friends at the 2019 Contemporary Pharmacology and Prescribing in Older Adults Conference, March 28-30, 2019, in Chicago, IL.

Register today!