Building the Future, Celebrating the Present, Reflecting on the Past
by Valerie K. Sabol
"The single biggest problem in communication is the illusion that it has taken place." – George Bernard Shaw
Building the Future
Communication is essential because it is often the source of many of our problems, mistakes, and/or misunderstandings. My favorite quote by George Bernard Shaw (as noted above) is laminated and posted on my door at work as a daily reminder to myself (and others) about the importance of regular, clear, and consistent communication. I recognize how incredibly busy everyone is – we do so much for so many and there is only so much time in the day – but we still must communicate effectively!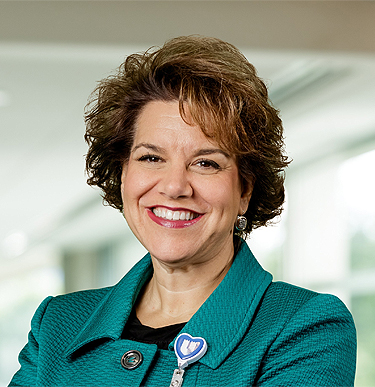 Valerie K. Sabol, PhD, ACNP-BC, GNP-BC, ANEF, FAANP, FAAN
GAPNA President
So, after observing the behaviors and preferences of video messaging among my teenage children and college-aged students (and let's be honest – too many emails to read!), I have a simple idea to help enhance communication among GAPNA members. My plan is to create short, video updates for our GAPNA members every month (and as needed).
These short videos are a modern-day version of FDR's historic Fireside Chats; in addition to helping keep everyone informed about major initiatives, it is also a quick way to mobilize members and respond quickly to changes in our world (i.e., strength in numbers).
In addition, I have two requests for every GAPNA member:
Stay connected on social media. Post at least one item on social media every day. It could be related to GAPNA's mission, vision, a Member, or aging-related work. Be sure to include one or more of the following links to make sure the world knows who were are!
Plan on taking and/or encourage others to take the new (and only!) APRN Gerontological Specialist Certification Exam (GS-C). It is now offered through Computer-Based Testing and as a Pen/Paper exam at the 2019 Contemporary Pharmacology & Prescribing in Older Adults Conference, March 28-30, 2019, in Chicago, IL. We need to stand together and demonstrate our expertise!
Celebrating the Present
The GAPNA Board of Directors is excited and looking forward to being your dedicated, servant leaders for 2018-2019. When I think about GAPNA's mission and vision, I am reminded why we do what we do, and ever so grateful for the people I encounter every day – my colleagues, students, patients, and their families. These interactions, exchange of ideas, feelings, and emotion fuel me and help me stay centered on what really matters.
Please know that there are so many diverse and inclusive opportunities to engage within and for GAPNA! I hope that if you are not already involved in some way, that you find something to be a part of, get the most out of your membership, and find opportunities to give back to your organization. If you have new, innovative ideas about how to strengthen the organization, please do not hesitate to contact me or the National Office. We are here to serve you!
Reflecting on the Past
GAPNA recently wrapped up its 37th Annual Conference in Washington, DC. Now that our suitcases are unpacked (and managed to get our missed emails down to manageable DEFCON 5 levels), we are finally catching up with our regular work/home schedules.
As we re-acclimate, it is important to take a few moments to reflect upon the shared experiences, energy, and connections each of us made. We learned a great deal – and the key is to take what we have learned and embed it into our daily routine, rather than feeling that it is additive or burdensome on a growing 'to-do' list.
For example, while GAPNA can boast its second-highest conference attendance in its history, I believe the more important point of those attendance numbers is that we are creating a social movement about the care of older adults and how APRNs can and should play a pivotal role in that care.
The momentum we are gaining is palpable! Just ask anyone who attended the preconference workshop on "Advocacy: Fundamentals of Legislative Updates and Visits to the Capitol." Not only did we make connections with our senators and representatives, we built connections with other APRNs in our own respective states. And those connections can be very powerful, further adding to the social movement momentum. So, stay connected – add these folks to your social media, your emails, and your meetings.
Also at the 2018 Annual Conference, leaders met to talk about the past year, current initiatives, and plans for the future. Members and attendees represented 50 states, 21 chapters, 10 committees, and 8 special interest groups. Following GAPNA tradition (and planned months in advance), the speakers, topics, posters, exhibitors, and industry-supported presentation theaters were exceptional.
A special thank you to the Conference Planning Committee for all of their hard work!
A special thank you to the Conference Planning Committee for all of their hard work! The Exhibit Hall was lively with exhibitors, posters, the Chapter basket raffle for the GAPNA Foundation, and of course, the Research Committee's Cash Cab. Notably, I received considerable feedback from visitors and new members, who commented on the creativity and contagious enthusiasm of our members. Kudos to all!
Another special thank you to those of you who either contributed to the chapter gift baskets and/or purchased raffle tickets for the GAPNA Foundation. Others participated in the Foundation's Scramble Golf Outing, the early morning Fun Run/Walk, and the Washington, DC, Monument Tour. Money raised by the Foundation from these events/activities supports scholarly projects, research, and educational opportunities for GAPNA members. Thank you GAPNA Foundation for your tireless dedication – the impact of your support is felt not only at our conferences, but throughout the year!
A heartfelt note of appreciation for the GAPNA Board of Directors, and in particular, Michelle Moccia and Katherine Abraham Evans. Both Michelle and Katherine have served in ways too numerous to count, both publicly and behind the scenes, to make sure GAPNA was heard, represented, and/or "at the table." Words can never express how valued you each have been to the organization – thank you! It is important for everyone to know that Katherine Abraham Evans is the only outgoing member of the board, and we welcome Sharon Bronner as Director at Large.
Led by Michael Brennan, the National Office makes much of the work "magically" happen behind the scenes. New to the team, we welcome Erin Macartney, GAPNA's Association Services Manager. Thank you for all the important work you all do – GAPNA could not do it without you, and we look forward to another productive and trendsetting year!
In sum, I am both excited and humbled to lead such a vibrant organization. People ask me why, as a nurse practitioner and educator, do I focus on our aging population? My answer is really quite simple. "When I go home at the end of the day, I know I made a difference."
Few people are fortunate to have such a career, and to serve GAPNA in this capacity is simply icing on the cake.
Valerie K. Sabol, PhD, ACNP-BC, GNP-BC, ANEF, FAANP, FAAN
GAPNA President             
Twitter: @ProfSabol
Email: valerie.sabol@duke.edu
Join your friends at the 2019 Contemporary Pharmacology and Prescribing in Older Adults Conference, March 28-30, 2019, in Chicago, IL.

Register today!