Patti Parker: Educator, Clinician, and Patient Advocate
Patti Parker, PhD, RN, A/GNP, is GAPNA's Rising Star for Fall 2018. She is Assistant Professor, Clinical Nursing, University of Texas at Arlington College of Nursing and Health Innovation (CONHI), and is also a staff member at a dermatology clinical practice in Dallas, TX.
She had been a GAPNA member for 5 years.
Dr. Parker earned her BSN degree from Baylor University, Waco, TX; MSN in Adult Health CNS at University of Texas at Arlington College of Nursing and Health Innovation, Arlington, TX; Post-Masters as an Adult/Geriatric NP, University of Texas at Arlington College of Nursing and Health Innovation, Arlington, TX; and a PhD in Gerontology from the University of North Texas, Denton, TX.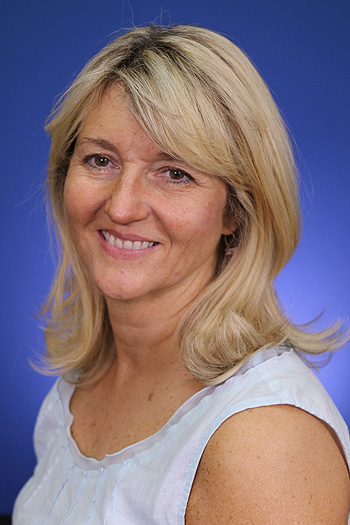 Since 2004, she has been a subject matter expert for the American Nurses Credentialing Center, creating enduring materials and presenting review seminars in the areas of pharmacology, dermatology, and geriatrics.
A Patient Advocate
"Prior to 2014, I taught part time at UT CONHI, and I maintained a full-time geriatric practice – outpatient and long-term care – for Health Texas Provider Network in Dallas," Patti said. "[This experience was] a wonderful example of multidisciplinary collaborative geriatric care [from 2004 until 2014]. As health care began to change during this period, the provider network opted to dissolve their stand-alone geriatric service line. It was during this time that I joined the university as a full-time faculty teaching geriatrics and internal medicine courses in the nurse practitioner program."
In the dermatology clinic, Patti is responsible for evaluating and treating older adults with skin, hair, and nail issues, wound care, skin lesions and rashes, and alopecia. In addition, she is involved in policy and procedure development at the clinic.
"In the educator role, I develop and deliver content specific to geriatric medical issues to nurse practitioner students going into the field of internal medicine and geriatrics," she explained. "In my role at UT College of Nursing and Health Innovation, I teach pharmacology to all prospective nurse practitioner students.
One of the principles I attempt to develop in students is to be an advocate for your patients – of course that is the case with neonates and children – but this principle is so relevant in the frail, older population."
Valuable Lessons
Patti shared her inspiration for adult geriatric nursing practice. "Growing up in a small town in East Texas, I spent many hours with my grandparents. Each taught me many valuable lessons, and I was fortunate to have one of them live into her 9th decade. Those experiences made me comfortable taking care of older adults when I was a new graduate RN, and I found their medical complexity stimulating. While at the same time, their years of life made them so wise in the ways of the world.
"When I first went into nursing school, I thought I wanted to become an operating room nurse, but after a short rotation in the OR, I quickly discovered this arena was not for me. I told my college roommates, 'I want to be able to talk to my patients, hear their stories, that way I can better assist them.'"
Patti sees patient longevity and care and treatment of chronic illness shaping the evolution of geriatric nursing. "This phenomenon mandates more healthcare providers to be well versed in the care of the older adult, which can be a tall order. Our patients often have many medical issues that require complex management plans. Yes, there may be many specialists involved in the care of the older adult, but each of them deserves a medical fiduciary. Advanced practice nurses are ideal for this role. Patients that do not have such [advocates] are often unable to navigate the healthcare system in an optimal way."
Educating Students, Learning from Patients
Patti enjoys the education and leaning aspects experienced with both students and patients. "Students asking me great questions have made me a better provider of geriatric care, while I have learned more from my patients than even the best textbook."
When she is not at the university or in the clinic, Patti enjoys cooking. "Although, I have been a vegetarian for over 20 years and try to eat healthy, I love great desserts and coffee."
As geriatric healthcare evolves, Patti sees an important need for helping patients navigate and increasingly complex healthcare system. "I have been caring for older adults as an advanced practice nurse since the summer of 1993, so it is hard to imagine not continuing to teach, mentor, and care for this population in some form. I believe empowering other advanced practice nurses as they enter the field of geriatrics is one contribution to our specialty that I am privileged to be a part of. In the next 5 years, I hope to embellish on the role of the medical fiduciary for the older adult population. The geriatric literature has been a proponent of multidisciplinary care for as long as I can remember, but with the complexity of our healthcare system today, I am not sure that is enough. The geriatric advance practice nurse would be ideal to navigate complex patient care – either as a private business entity, as part of a healthcare system or perhaps in some other mediator role."
Patti became involved with GAPNA through her a long-time friend and colleague, Dr. Kathryn Daniel, who "encouraged me throughout my career to be active in our field. Some might say that we have grown up in the specialty together."
Patti lives in Dallas, TX. She enjoys spending time with her boyfriend of many years, Michael, and family dog, Blossom.
Plan your trip to the nation's capital during GAPNA's Annual Conference, September 26-29, 2018 by checking out all the things to do, places to eat, and ways to have fun.

Find out about it!