Another Great Conference
by Michelle Lewis
Thanks to the conference committee we had another great bi-annual conference on April 27 and 28, 2018 at Orlando Airport Lakeside Marriott.
The conference was entitled "Leading the Way in Caring for the Older Adult." Topics included: Health Policy, Infectious Disease and Wound Care, Pain Management, Electrolyte Disorders, Choosing Wisely in the Older Adult, Geriatric Literature Review, DOH regulations, Advance Directives/Hospice and Palliative Care, Movement Disorders, GI Motility Disorders, and Sudden Cardiac Arrest; 12.5 ANCC CE and Category 1 AMA CME were given to full conference attendees for less than $100.
Our wonderful speakers included Susan Mullaney, DNP; Alena Klochko, MD; Diane Sanders-Cepeda, DO; Lori Cruger, GNP; Laurie Sheffield, DNP; Gregory James, DO; Naushira Pandya, DO; Gregory Chaires, Esq.; Amit Sharma, MD; H. Murray Todd, MD; JoAnn Fisher, FNP; Marc Kaprow, DO; and Niharika Suchak, MBDS. The attendees have asked that four of the speakers come back for our next conference.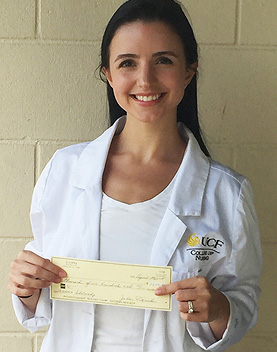 Florida Chapter scholarship recipient Ali!
We would like to thank the following companies for their support.
Product theater sponsors included Lilly, Sunovion, and CaptionCall. Acadia sponsored an afternoon break and badge holders. Exhibitors were Lilly, Sunovion, CaptionCall, Acadia, Novartis, Medical Solutions Suppliers, Smith & Nephew, Boehringer-Ingelheim, Astellas, Avanir, Vitas Healthcare, Trilogy Home Healthcare, FNPN, FMDA, Purdue, and Optum Healthcare. We could not have had the conference without them.
We had 130 attendees including two physicians, both of whom were speakers. We had 19 registered nurses and 12 of these were enrolled in nurse practitioner programs. Attendees came from all areas of Florida, but primarily from central Florida. The educational sessions were very well attended. We obtained ANCC-CE through Georgia Nurses Association. We also applied for CME/CMD credit through AMDA-The Society for Post-Acute and Long-Term Care Medicine. We were hoping to attract physician assistants (PAs), but there were no PA attendees at our conference.
The chapter's second scholarship of $1,500 was awarded to Alison Badders, BSN, RN, during the conference.
There were three poster presenters at the conference. JoAnn Fisher, FNP-BC, our current treasurer, and Dr. Maria-Agnes Rosell-Morillo tied for first place and Debra Moulavi, MS, WOCN, MSN, NP-C, won third prize.
Several conference participants voiced interest in becoming more active in the chapter. Three nominations have been received via email to date.
Madetric Wood was the membership chair until July 31, 2018. She did a great job keeping up with our new and renewing members. Chapter membership has grown from 65 in 2012 to over 300 in 2018. Nice job Madetric!
We have established a 501c3 nonprofit organization GAPNA OF FLORIDA, INC, in addition to our membership organization FL-GAPNA. We plan to offer advance directive education to Florida communities every other year starting in 2019. This was a lot of work and we thank Jo Ann Fisher for her perseverance in finalizing this goal.
The quarterly meeting was held on July 20, 2018 at the Marriott West Palm Beach. Lilly sponsored the dinner.
Chapter goals are to continue membership growth and to mentor new leaders. We look forward to another great conference in 2020 and our first community education event in April 2019.
Visit the Floridia GAPNA Chapter Website | View the GAPNA Chapters
Michelle Lewis, ARNP
Chapter President
arnpmichelle@yahoo.com
Plan your trip to the nation's capital during GAPNA's Annual Conference, September 26-29, 2018 by checking out all the things to do, places to eat, and ways to have fun.

Find out about it!