Innovative Program for Family Caregivers of Dementia Patients Transitioning from Hospital to Home
Researchers from the Betty Irene Moore School of Nursing at UC Davis received a $224,000 grant from the Archstone Foundation for a 1-year project: Development of an Innovative and Evidence-based Program to Advance Support for Family Caregivers of Persons with Dementia in the Transition from Hospital to Community.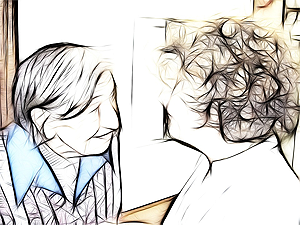 The long-term goal of this project is to improve the health and well-being of family caregivers of persons with dementia at the critical time of caregiving during transition from hospital.
Researchers recognize this important opportunity to advance family caregiving for older adults by embedding evidence-based interventions into routine healthcare settings.
Reports show that a diagnosis of dementia is associated with a 3.68 times higher risk for hospitalization. Caregivers for those individuals deal with both the underlying dementia and the other conditions that precipitated hospitalization. Often, they enter the situation already fatigued and have difficulty managing the demands of care.
The project will consider existing workflows, payment mechanisms, and engagement of key personnel at the medical center. Outcomes from this project will set the stage to implement and formally evaluate the medical center's family caregiver support program and to disseminate the results to the broader healthcare community.
This project is among the research led by faculty of the Family Caregiving Institute at the Betty Irene Moore School of Nursing at UC Davis.
Funded through a grant from the Gordon and Betty Moore Foundation, the goal of the institute is to advance research, education and policy to support caregivers in the demands that impact their mental, physical, and financial health and threaten their quality of life.
Plan your trip to the nation's capital during the GAPNA Annual Conference, September 26-29, 2018 by checking out all the things to do, places to eat, and ways to have fun.

Find out about it!