Monica Beshara Receives Clinical Practice Award
The Georgia Chapter of GAPNA awarded its annual Excellence in Clinical Practice Award to Monica Beshara, NP-C, on August 23, 2017, at the quarterly business meeting.
We are very proud of Monica's career accomplishments! Her clinical expertise and passion for geriatrics have impacted her patients and co-workers in numerous ways over the years.
She is an educator, team player, listener, and friend to all she meets. Monica has helped patients and families define their goals of care to reduce hospitalizations, and designed staff education and training programs for skilled nursing facilities.
She has organized donation drives and brought her choir to facilities during winter holidays to perform concerts for residents. Recently, Monica was selected by the Society for Post-Acute and Long-Term Care Medicine to serve on the Transitions of Care Clinical Practice Guidelines Committee.
Of all candidates from the country who submitted applications, she is the only advanced practice nurse to be chosen for this workgroup! As part of this committee, Monica will collaborate with a team to critically appraise current practice standards and provide new recommendations for treatment for the geriatric population.
Once again, we are immensely proud of Monica and applaud her tireless work!
Brette Winston, MSN, APRN-BC
brette.winston@gmail.com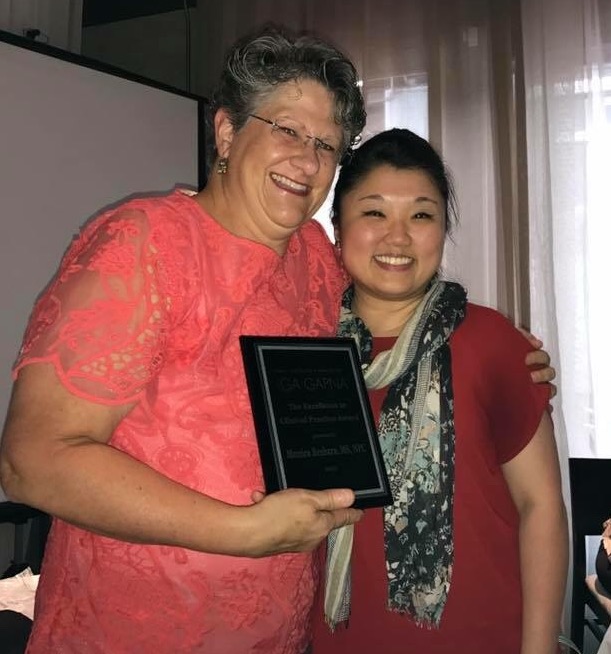 Monica Beshara (left) receives the Georgia Excellence in Clinical Practice Award from Brette Winston.