Conference Attendance Brings SIG Interactions to a New Level for Novice Member
by Carole Bartoo
I attended my first GAPNA Annual Conference this past September. I must admit, I had my doubts. Would it be worth the time and expense? Couldn't I get just as many CEUs on line and stay home with my work and family?
I have been a GAPNA member for a couple of years and have enjoyed participating in special interest group (SIG) conference calls. They have encouraged me to think more deeply about the role of advanced practice nurses in geriatric care. They have helped me develop relationships, at least the kind you can develop by phone and email.
But let's face it. We are all very busy, and working in a healthcare system that is broken can be soul-crushingly frustrating. Making time for a conference call after work hours is tough. Everyone sounds a little tired, and if you've never met the other members and aren't certain what your time commitment will do to change things, it doesn't take a lot to skip a call or two.
Committing to attending a conference is an even larger leap for many new NPs. But attending the GAPNA Conference had a profound impact on me. What I found was close contact with 400-plus people as fired up as I am about issues regarding care for older adults.
It was an elbow-to-elbow opportunity to connect with people and learn about issues that have a real-life impact on our older adult patients. In retrospect, it's a lot like a SIG conference call, but with faces, and more relaxed and focused time for discussion. Once I returned home, I found it easy to step up my attendance on SIG calls.
A Profound Impact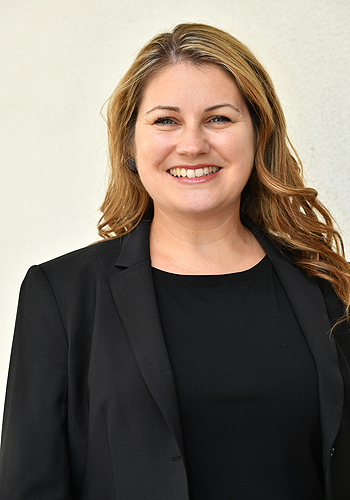 Carolyn Clevenger demonstrated the value and benefits of
professional networking and interaction at GAPNA Conferences.
Carolyn Clevenger, DNP, RN, AGPCNP-BC, GNP-BC, FAANP, immediate past president of GAPNA, spoke with me about the 2016 conference and said the experience of feeling connected and building on passions is just the sort of soul-building experience she hopes for – for all members.
"GAPNA is different than any other geriatric organization meetings. We offer CEUs relevant to our work, but you can't get relationship building with online CEUs. We want to connect people with similar work, from diverse settings," she said.
Clevenger felt that same profound impact once she began attending GAPNA conferences early in her own membership. She spoke with me while attending a Gerontological Society of America (GSA) meeting, where she is gaining valuable information and making connections. Yet, she is also reminded GAPNA is the only organization led for and by advanced practice nurses with a geriatric focus.
"At GAPNA they get what I do, they understand the logistics and billing and practical care issues," she said. "Now that I have served on the board of directors, I can say the goal of the committees that put the conference together is simply to delight attendees. We want them to learn relevant information that they can then return home on Monday and put to work. We want members to have a professional home to share passions."
Clevenger said while she was at the GAPNA Conference in Phoenix, she encouraged new members to visit a couple of special interest groups (SIGs) on the last day of the conference. She says it is the very best way to take that "fired up" feeling you get at the conference and move it forward. For members who have not attended a conference, joining a SIG before attending allows you to begin to learn names and voices. Clevenger is encouraging the groups to begin video conferencing.
"The board just started using video conferencing. It's great to see the faces and the conversation flows more naturally. Once you are in a SIG, you have a network to bounce ideas off, and the freedom to plan what you want to do," she said.
Activities can range from writing best practices articles to share with members through the website, running journal clubs, and collaborating on quality and research projects. In recent years, the Home Care SIG has been one of the largest in terms of membership, but there is also a growing interest in adding an acute care SIG now as well as a SIG for primary care. Have a look... visit the SIGs.
"We have a new Veterans Care SIG. It is not just for those who work in VAs but anyone who sees Veterans. Marianne Shaughnessy, former GAPNA President, is serving as the SIG's first chair. The group discusses issues central to Veterans care including common syndromes derived from occupational hazards which differ by service period and directing Veterans to and working with the 'aid and attendant' benefits," Clevenger said.
Driving Ideas into Action
If that example sounds simple and potentially powerful to you, if it gets your heart beating because you have seen a problem in your own practice serving older adults that begs to be addressed, you should join a GAPNA SIG and "virtually" meet colleagues who feel the same way. Then, please attend a GAPNA conference. It will offer the chance to meet your fellow SIG members face-to-face.
Networking is critically important to driving bright ideas into action, but face-to-face contact has the power to move connections into relationships.
I plan to attend GAPNA Conferences to develop these relationships into the future. My local Nashville GAPNA Chapter is small and our members pull from a common pool of resources. That makes the upcoming 2017 GAPNA Annual Conference, to be held right here in Nashville, TN, even more exciting for us here in this region. Widening the scope of contact, both through involvement in SIGs and attendance of conferences, is how ideas move from you and your local colleagues to a national group discussion, and then maybe to a project that could change things for everyone.
Carole Bartoo, MSN, AGPCNP-BC
Editor
carole.bartoo@vandervilt.edu