Specialized Workshops Featured at Annual Conference
Take advantage of the focused Pre-Conference Workshops offered at GAPNA's Annual Conference, October 4-7, 2017, in Nashville, TN.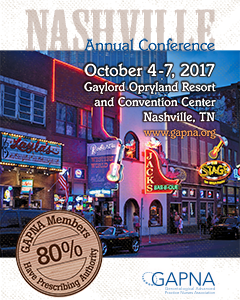 Earn valuable continuing nursing education contact hours including pharmacology hours. An additional fee is required for the Pre-Conference Workshops except for the special evening session on opioid prescribing which is available at no charge!
The Pre-Conference Workshops, which will be held on Wednesday, October 4, 2017, include:
Optimizing Management of Chronic Wounds – Therapeutic treatment modalities for chronic wounds including pressure, venous, diabetic foot, and arterial ulcers in the older adult will be discussed. Strategies to optimize wound healing and skin protection will be highlighted. Differentiation and diagnosis of these various chronic wounds will be described, including appropriate wound assessment parameters. The wound care dressing selection process will be reviewed and simplified, giving the attendee the opportunity to engage in discussion and enhanced learning with examples and wound care products. (2.5 contact hours)
Strategies to Enhance Competency of Adult-Gerontology APRNs – Participants, with guidance from the panelists, will use a blueprint to help map strategies presented with courses at their own institution. Preceptors will have an opportunity to link targeted clinical resources with the new competencies. Other advanced practice nurses, such as family nurse practitioners or clinical nurse specialists, will have an opportunity to discuss how to consider relevance of these competencies to their care of older adults, their families, and caregivers. (2.5 contact hours)
Pharmacology Workshop: Evidence-Based Cardiac Prescribing – During this session, evidence-based cardiac prescribing in older adults for common cardiovascular conditions such as dyslipidemia, hypertension, atrial fibrillation, and heart failure will be discussed. (4.5 contact hours including pharmacology hours)
Opioid Prescribing: Safe Practice, Changing Lives: Update 2017 – This session will address safe practices for patient selection, risk assessment, initiation and modification, ongoing monitoring, and patient and caregiver education associated with prescribing extended and immediate-release opioids for chronic and acute pain management. Pain concepts, CDC guidelines, cannabis, and addiction treatment will also be covered. This activity is intended to be fully compliant with the ER/LA Opioid Analgesic REMS education requirements issued by the FDA. (2.25 contact hours including pharmacology hours)
Join your friends and colleagues in Nashville.