The Nuts and Bolts of Precepting
by Barbara Harrison
GAPNA is pleased to announce that a free continuing education (CE) activity is available: "The Nuts and Bolts of Precepting." This CE was originally offered at the 2015 GAPNA Conference.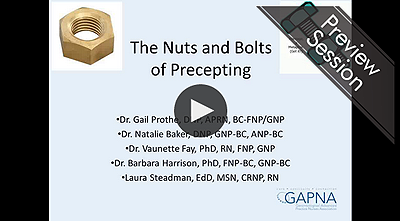 The purpose of this CE is to explain practical and legal issues of precepting for first-time nurse practitioners. Nurse practitioners often want to support students who ask them to be their preceptor yet lack knowledge on how to navigate the contract and integrate a student into a busy practice setting without losing productivity.
Strategies that facilitate successful precepting are explained and additional resources on negotiation provided. Barriers to precepting students are addressed including practice setting factors and student factors (varied skills levels, interprofessional communication, etc.).
This CE activity provides suggestions and specific questions to ask at each point in the clinical rotation starting with the initial request and closing with the evaluation. Presenters also discuss legal/regulatory issues related to precepting. To access this CE activity through the GAPNA Online Library.
Barbara Harrison, PhD, APRN, FGSA
behmcpherson@gmail.com