by Evelyn G. Duffy
GAPNA was well represented at the American Academy of Nurse Practitioners (AANP) 2016 Health Policy Conference held in Washington, DC, March 20-22, 2016.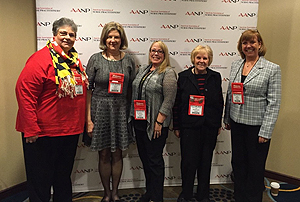 First-time attendees were oriented to the legislative process and prepared for visits to senators and congressman on first the day of the conference. Conference topics included presentations on mental health legislation, federal licensure and regulation including the VA Nursing Manual, telehealth/virtual care, the epidemic of opioid abuse, and full practice authority.
Guests included congressional staff and Cindy Crowley, a well-known journalist who was the host of CNN's State of the Nation. An afternoon was dedicated to topics around CMS including chronic care priorities, value-based care, and the Medical Home.
A benefit of attending the conference is meeting nurse practitioners from all specialties and gathering with others from your state. AANP does all the preliminary preparation for the Capitol Hill visits. If you are the only one scheduled to visit your congressman or senator, AANP will provide staff to go with you if you wish.
The AANP Health Policy Conference is a great way to advocate for a cause you believe in while experiencing firsthand healthy policy initiatives in action.
GAPNA generously provides a Health Policy Scholarship to one member each year. This year the scholarship went to Deborah Wolff-Baker - read about her experience.
Evelyn G. Duffy, DNP, AGPCNP-BC, FAANP
Chair, Health Affairs Committee
Exd4@case.edu
---
Photo above: GAPNA Members Attending the AANP Conference (L to R): Julie Stanik-Hutt, Evelyn Duffy, Deborah Wolff-Baker, Lori Martin-Plank, Sue Mullaney. View larger image.