NIHSeniorHealth.gov, the website for older adults, makes aging-related health information easily accessible for family members and friends seeking reliable, easy-to-understand online health information. Health topics include general background information, open-captioned videos, quizzes, and frequently asked questions (FAQs).
Below are FAQs regarding prescription and illicit drug abuse.
---
What is addiction?
Addiction is a chronic disease in which a person craves, seeks, and continues to abuse a legal (medication, alcohol, tobacco) or an illicit (illegal) drug, despite harmful consequences. People who are addicted continue to abuse the substance even though it can harm their physical or mental health, lead to accidents, or put others in danger.
How does a person become addicted?
Generally, people take illicit drugs to feel good or feel better than they felt before. This feeling of pleasure, or "high," that a person gets from taking a drug comes from large, rapid increases in dopamine, a brain chemical.
We all get a dopamine "rush" from things that we normally enjoy (such as eating good food or listening to our favorite music). Illicit drugs cause a much more intense and longer lasting increase in dopamine.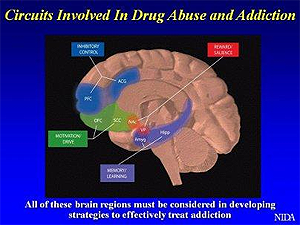 Drugs of abuse disrupt the brain's natural reward system
as well as brain areas involved in memory, motivation,
and control over behavior. Credit: National Institute on
Drug Abuse.
Repeated exposure to large, drug-induced dopamine surges dulls the dopamine system's response to everyday stimuli. So, things we normally enjoy are no longer pleasurable, and even the effects of the drug are not as strong as they once were.
But drug abuse doesn't just affect the pleasure pathway. It also disrupts the brain areas involved in memory/learning and control over behavior, which is why addicted people continue to use drugs even though they know it is harmful, and is also why it is so difficult to stop, even when they want to.
What is the difference between physical dependence and addiction?
Physical dependence is a normal process that can happen to anyone taking a medication for a long time. It means the body (including the brain) is adapting to the presence of the drug, and the person may require a higher dosage or a different medication to get relief; this condition is known as tolerance.
They may also suffer from withdrawal or feel sick when they stop taking the medication abruptly. However, the symptoms of withdrawal can usually be prevented or managed by a physician, which is why it is so important to talk to a health care provider before stopping a medication.
Someone who is addicted to a drug may also be physically dependent on it, but rather than benefiting from the drug's effects, an addicted person will continue to get worse with continued or increasing drug abuse. An addicted person compulsively seeks and abuses drugs, despite their negative consequences.
What is the most commonly abused drug among older adults?
Marijuana is the most abused illicit drug among people 50 and older.
How can an older person avoid abusing or becoming addicted to illicit drugs?
Preventing illicit drug use in older populations requires first knowing what contributes to it. For people of all ages, an individual's biology (including their genetics) and the environment, as well as how the two act together, determine a person's vulnerability to drug abuse and addiction – or can protect against it.
For example, being exposed to drugs of abuse in youth, living in a community where drug use is prevalent, having an untreated mental health problem, such as depression, or dealing with difficult transition periods such as retirement or loss of a spouse, can all make an older adult more vulnerable to drug abuse.
Prevention efforts must focus on gaining a better understanding of the factors that promote illicit drug use in older adults. Prevention also includes finding ways to stop drug use before it worsens and leads to health problems, including addiction.
Family members can play an important role by being aware of an older relative's well-being and possible drug abuse, and stepping in to help at an early stage, if necessary. Health care providers should ask their older patients about potential drug abuse and make referrals as needed.
Is it easy to recognize signs of substance abuse in an older person?
Not always. Some warning signs, such as sleep problems, falls, mood swings, anxiety, depression, and memory problems, can also be signs of other health conditions.
As a result, health care providers and family members often do not realize an older person has a drug problem, and people may not get the help they need.
---
More about the NIH:
The NIHSeniorHealth.gov site was developed by the National Institute on Aging and the National Library of Medicine, both part of the National Institutes of Health (NIH). NIHSeniorHealth features authoritative and up-to-date health information from the NIH. In addition, the American Geriatrics Society provides expert and independent review of some of the material found on this website. New topics are added to the site on a regular basis.
Added July 13, 2017: A notice posted on the NIHseniorHealth.gov Website:
NIHseniorHealth.gov will be retired on August 1, 2017. To continue finding reliable, up-to-date health and wellness information for older adults from the National Institutes of Health, we're referring you to https://medlineplus.gov/ or https://www.nia.nih.gov/health/.