by Jill Brett
GAPNA's Rising Star for Spring 2016 is Lacey N. Stevens, ANP-C.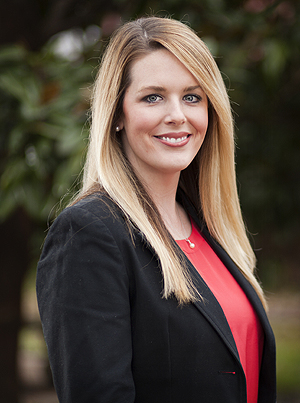 Every quarter, GAPNA recognizes an outstanding member who is up and coming in their specialty and in leadership within the organization.
Lacey is an Optum Clinical Services Manager in central Georgia. She manages a team of nurse practitioners who oversee the care of the fragile elderly in long-term care facilities. Lacey is also the Web Editor for GAPNA.
Lacey received her Bachelor of Science degree in Nursing with a minor in Spanish from Georgia College and State University in 2008. She earned her Master of Science in Nursing specializing in Adult Primary Nurse Practitioner from the University of Alabama at Birmingham in 2010.
Lacey has been married for almost 8 years to her husband, Will, who is also an adult-geriatric NP with Optum HouseCalls.
Lacey's close relationship with her maternal grandparents sparked her love for the elderly early in her life. While pursuing her master's degree, she worked as an RN supervisor at a nursing home and immediately knew she wanted a career in geriatrics and long-term care.
One of Lacey's favorite parts of her job is teaching and mentoring. Lacey says she has been fortunate to have amazing teachers, preceptors, and mentors in her schooling and career and she feels it's her duty to pay it forward.
In 2015, Lacey was selected to participate in the UnitedHealth Group Emerging Leaders Program, a 5-month program designed to build leadership capability and aid in career planning. In the future, she sees herself getting more involved in nursing legislation.
Congratulations, Lacey! We wish you all the best as you continue to strive toward excellence in the care of older adults.
Jill Brett
Association Services Manager
gapna@gapna.org