President's Message
Building a Community of Gerontological Nursing Care Providers
by Carolyn K. Clevenger
Happy New Year 2016! A new year brings opportunity for renewal, optimism, and a thoughtful pause as we look ahead to the year to come and resolve to improve.
I suppose we could choose any day to make a fresh start but January 1 brings a collective sense of renewal. Even if you did not make resolutions, many of us have engaged in conversations on this topic at the start of the new year.
Within GAPNA, we may have separate goals individually but together we are making great efforts to build a community of providers who share a passion for the care of older adults.
NEW GAPNA CHAPTER
In the spirit of ringing in the new, please join me in welcoming the newly chartered Heartland Chapter! The Heartland Chapter will bring together local members in Kansas, Missouri, and Nebraska. Be sure to congratulate chapter leaders Carol Buller, Anne Arthur, and Amy Weber at the next opportunity.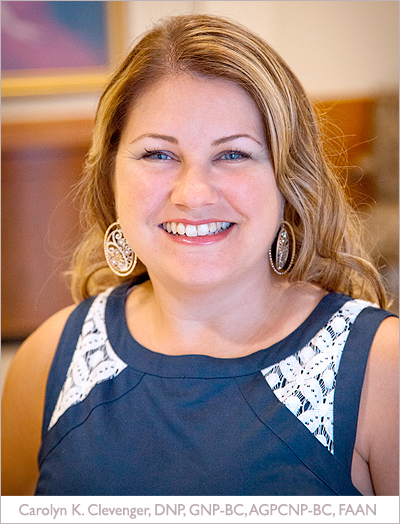 These leaders have stepped up to build a network that supports their local colleagues in gerontological nursing and I look forward to seeing many wonderful things from our newest chapter. Welcome and congratulations on this milestone!
RISING STAR!
Also join me in congratulating Lacey Stevens. She is GAPNA's Rising Star for the first quarter of 2016. The Rising Star program recognizes an outstanding member who is up and coming in his or her specialty and in leadership within the organization. Lacey has been a GAPNA member for about 4 years and practices in long-term care. View the interview with Lacey!
The Rising Star area now has an archive of previous Rising Star members!
2016 PHARMACOLOGY CONFERENCE
As you make your travel plans for the 2016 Pharmacology Conference, please keep in mind our service project with the Atlanta Housing Authority (AHA). The AHA serves over 50,000 low-income individuals throughout the metro Atlanta area, many of whom reside in one of 11 senior high-rise buildings.
We have the unique opportunity to support their initiative as the AHA works to promote wellness among their older clients. I have personally worked with this community partner for the past 10 years and have seen firsthand the high level of service they provide to older adults in Atlanta. I am proud GAPNA will partner with them for the important work of keeping seniors healthy! Look for more information about this in the near future. It will appear as a News Item on the homepage of the GAPNA Website.
STRATEGIC PLANNING
Inside this issue, you will find more details on all of the above. It truly is a time to review our accomplishments thus far and map our plan to promote excellence in advanced practice nursing that enhances the well being of older adults.
Although we are moving quickly into 2016 and away from January 1, there are many reasons to be optimistic as we consider the future of GAPNA.
We have a stable and growing membership with clinical expertise that is needed more than ever. We offer up-to-date, specialized continuing education in gerontological nursing. In fact, our conferences served 774 individuals in 2015! We are developing not only clinical experts but also nursing leaders from within our ranks.
Please know that the Board of Directors will spend intensive time in March to draft the next Strategic Plan. The plan will be presented to the membership over the coming months for your input. If you see a Board member over the next few months, please offer thanks for this important work as we consider our goals and strategies for 2017-2020.
In fact, feel free to share with us your recommendations, hopes, and dreams for this organization as we look forward for the next 3 years.
Thank you for all you do to improve the lives of older adults. As always, I am proud to represent GAPNA and to serve in a leadership role this year. I hope to see you in Atlanta in April and please know that my email inbox is always open (for better or worse!). I will do my best to respond in a timely manner and to help in any way.
Carolyn K. Clevenger, DNP, GNP-BC, AGPCNP-BC, FAANP
President
carolyn.clevenger@emory.edu